6 best places for afternoon tea in Riyadh
High tea that's worth the mid-day calories…
There's nothing quite like whiling the afternoon away, sipping on a hot cup of tea whilst bingeing on scones, savouries and pastries. We've rounded up the best high tea places in cosy restaurants and sleek hotels for that perfect afternoon indulgence.
Time to book yourself a luxe afternoon tea sesh in Riyadh…
Ôplaisir
View this post on Instagram
Set in a sophisticated yet cosy ambience, let Ôplaisir give you a true taste of its decadent afternoon tea. Its afternoon tea sets, which serves two, come in both Ôplaisir Tea Time (SAR155) and Afternoon Tea Time (SAR95), simply depending on how hungry you are. The latter dishes out yummy bites that include freshly baked scones with jam and clotted cream, an assortment of sandwiches, and mini profiteroles with chocolate sauce.
The three-tier Ôplaisir Tea Time set features the same treats, except it includes pastries and a choice of twice-baked croissant or roasted chicken and mushrooms crêpe with bechamel sauce. To complete the experience, simply pick from 12 unique tea blends, including 1001 Nights (black tea, green tea and orange flowers) and Happy Forest (hibiscus, rosehip, pineapple, papaya and cherries), to sip away as you devour the scrumptious food. Ôplaisir is also offering its afternoon tea for takeaway in a pretty (not-so-little) box.
Ôplaisir, Al Mohammadiyah, PJQW+PH, daily 6.30am to midnight. SAR155 for Ôplaisir Tea Time for two, SAR95 for Afternoon Tea Time for two. Tel: 011 812 2420. @oplaisir_ksa
Yauatcha Riyadh
View this post on Instagram
When it comes to afternoon tea, you'll immediately think of scones and sandwiches, but what if we tell you that you can get two platters of dim sum, plus a dessert stand? Well, you can find this afternoon tea with a twist exclusively at Yauatcha. Pull up a seat at the outdoor terrace and feast on steamed and baked dim sum platters, with favourites like seafood black truffle dumplings, scallop shui mai and venison puff. Then end on a sweet note with dainty treats like coconut dome, pecan coffee truffle, raspberry profiterole and white chocolate cake with mango.
Sip on Asian-inspired teas such as the aromatic Golden Swan or the robust Harmutty black tea. Alternatively, if you prefer a black tea base with fruity notes, go for the French Earl Grey tea instead. The SAR250 price tag also entitles you to Red Cha, a refreshing berry-based concoction that's perfect for spring. There is a minimum requirement of two diners for Yauatcha's afternoon tea.
Yauatcha Riyadh, Mode Al Faisaliah, Prince Sultan Bin Abdulaziz Rd, Al Olaya, MMRP+2H, afternoon tea is available only from noon to 6pm. SAR250 per person. Tel: 920 006 555. @yauatchariyadh
Acoustic Restaurant & Art Gallery
View this post on Instagram
An afternoon spent at Acoustic is enough to brighten up anyone's day. Throw in a decadent afternoon tea in the dining room surrounded by artworks, and you won't want to leave. Spoilt for choice, you can choose from an assortment of teas and coffees. Finger sandwiches come in three different flavours and fillings, but the moreish dill and chicken of fluffy brown bread certainly tops them all.
Savoury and sweet treats are just as delicious in appearance as they are to eat. Let's not forget the basket of warm scones served with lashing of home-made jam, and of course, clotted cream. The restaurant requires a minimum of 24-hour notice for their afternoon tea. You can also get 15 per cent off for parties of eight or more.
Acoustic Restaurant & Art Gallery, Prince Muhammad Bin Abdulaziz Rd, Al Olaya, Riyadh 12331, MMVF+5V, Sun to Thurs 7.30am to midnight, Fri & Sat 8.30am to 12.30am. SAR149 per person. Tel: 011 416 4363. @acoustic.ksa
The Globe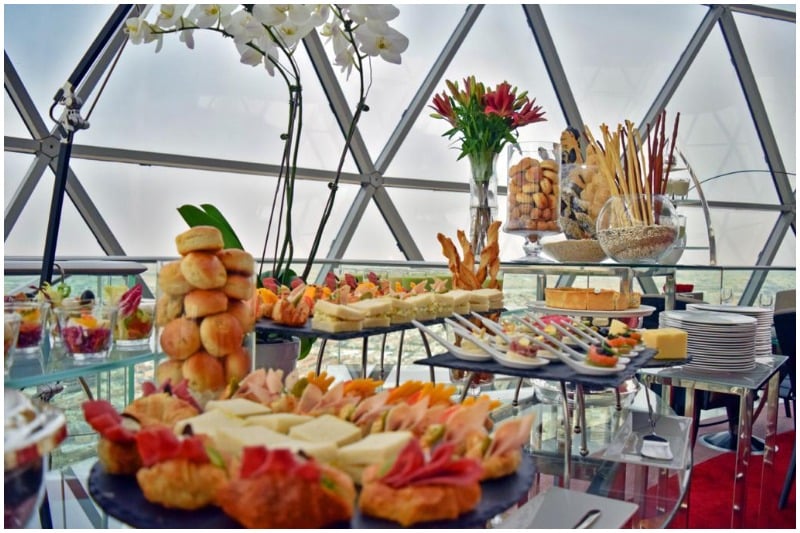 Picture this: you're sipping on a cup of soothing tea and enjoying delicious canapes, all whilst being accompanied by a panoramic view of the capital city. That's what you'll get when you indulge in The Globe's International Afternoon Tea at Al Faisaliah Tower, which has perhaps the most extensive and substantial selection of any high tea we've had in Riyadh. The afternoon tea comes with a free-flowing selection of savouries and sweets.
Start by selecting a drink (we'd recommend the Moroccan Mint tea from its TWG Tea range), and indulge in hot appetisers such as kibbeh, falafel, mini samosa and mini chicken hotdog Millefeuille, as well as its sushi selection from the buffet. Classic afternoon tea favourites, consisting of scones, sandwiches and pastries, are served on a three-tiered stand, presented on your table. You'll also enjoy a wide variety of desserts like cheesecake, chocolate fondue and more.
The Globe, Al Faisaliah Tower, King Fahd Branch Rd, The Geodesic Orb, MMQP+VC, afternoon tea is only available every Fri & Sat from 3pm to 6pm. SAR195 for adult and SAR100 for children aged 4 to 12 years. Tel: 011 273 2222. @theglobeksa
Lobby Lounge, Four Seasons Hotel Riyadh
View this post on Instagram
If indulging in an afternoon tea spread after a day of shopping at the Kingdom Centre sounds like a perfect plan for you, then be sure to slot in Four Seasons Hotel Riyadh in your itinerary. Relish in goodies from its Traditional High Tea, such as smoked salmon on pumpernickel bread, egg salad in mini vol-au-vent, wrapped air-dry beef with asparagus, and assorted scones.
If you feel like taking the local route, go for the Arabic High Tea set, which comes with stuffed vine leaves, fried kibbeh, mini chicken shawarma, and other Arabic delights, alongside an assortment of scones. The pièce de résistance here, however, has got to be the five-star tea service that definitely appeals to the tea fanatics. Choose from 20 exceptional 'Around the Globe' teas by Jing's Finest Tea Selection, or those game enough for a more decadent variety of teas should opt for Jing's 'Bespoke Journey'.
Four Seasons Hotel Riyadh at Kingdom Centre, Hugayat Tower, 9597 Al Urubah Rd, Al Olaya, PM6F+HR, afternoon tea is available daily at the Lobby Lounge from 11am to 8pm. The high tea set starts from SAR170. Tel: 011 211 5000. @fsriyadh
Chorisia Lounge, The Ritz-Carlton Riyadh
View this post on Instagram
Afternoon tea at The Ritz-Carlton Riyadh is served in the opulent surroundings of their Chorisia Lounge, complete with a floor-to-ceiling window and centuries-old trees in the outdoor terrace. Nibble on tartlets with salmon roe and chive sour cream, crepe with labneh and honey, as well as finger sandwiches such as beef pastrami and egg on ciabatta and smoked salmon on brioche. The crumbly scones, which come with a hefty dollop of lemon curd and strawberry jam, are particularly good. At SAR250, the set for you and a dining partner also features a delectable selection of desserts – our top pick is the coffee éclair – plus your choice of tea.
The Ritz-Carlton Riyadh, Makkah Al Mukarramah Rd, Al Hada, MJ8J+78, afternoon tea is available daily at the Chorisia Lounge from 2pm to 6pm. SAR250 for two. Tel: 11 802 8333. @ritzcarltonruh
Images: Supplied / Instagram
> Sign up for FREE to get exclusive updates that you are interested in