Forget cruise ship. Spend your holiday on the high seas on an oil rig…
The world's first tourism destination inspired by offshore oil platforms…
Thanks to the Public Investment Fund (PIF), you'll soon be able to go on a holiday on an oil rig.
You may not find any white-sand beaches or cocktails on the itinerary, but an 800-room hotel resort and an extreme park on an oil rig platform are the main draw of this off-beat cruise.
Meet PIF's latest tourism attraction, The Rig, a series of connected platforms that span 150,000 square metres.
An opening date has not yet been revealed, with the PIF only saying that the project is part of its 2021-2025 strategy.
Here's what we know so far about this epic offshore destination in Saudi Arabia.
Climb aboard The Rig
Located in the Arabian Gulf, The Rig will feature three hotels with endless sea views and world-class dining establishments, including an underwater restaurant.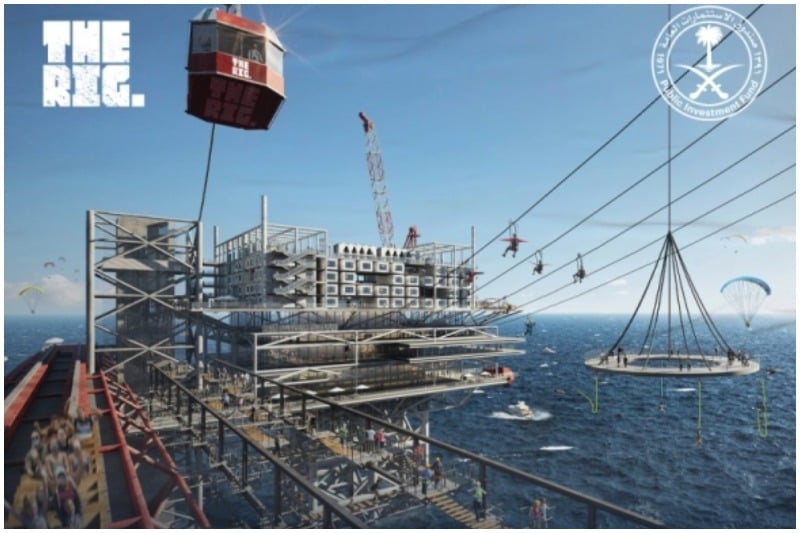 And the action won't just be limited to water sports. Expect a range of adventurous and extreme sports activities, too.
So, if you're looking for adrenaline-pumping thrills, you will not be disappointed.
This extreme park will offer board, base and bungee jumping. Get ready to drop headfirst towards the sea, taking in the panoramic views on the way back up.
Created for discovery
No, sorry, you can't walk to The Rig, but getting to this outlandish venue will be an experience in itself.
Guests can choose to travel on a ferry, yacht, cruise or helicopter, which will fly directly to The Rig's very own helipad. Besides, there will be berths for 50 yachts.
If you think this unique new hotspot and its offering is out of this world, that's only just the beginning. Be sure to stay tuned for more updates on The Rig.
Visit: Therig.sa
Images: PIF
> Sign up for FREE to get exclusive updates that you are interested in