15 places in Riyadh for flipping good pancakes
It's time to get stacking…
Pancake Day has once again crêped upon us. Although we feel the joy of a stack of carbs doused in liquid gold should not be confined to just 24 hours a year, Pancake Day on March 1 does make for a perfect excuse to indulge.
Whether you're in the mood for feather-light ricotta hotcakes, American-style pancakes crowned with maple syrup, or vegan, gluten-free alternatives, these are some of the best places in Riyadh to fill your face with some flipping good pancakes.
Amai Japanese Bakery
View this post on Instagram
Amai is a cosy Japanese bakery known for its pastries and souffle pancakes. The pancakes have a soft and fluffy texture and gently melt in your mouth. They can be enjoyed simply with honey or the thick and creamy Dulche de Leche.
Amai Japanese Bakery, 8068 Welfare Centre, Prince Muhammad Ibn Saad Ibn Abdulaziz Rd, Hittin, Riyadh 13512, daily 8am to 2am. Tel: 011 234 4005. @amai.sa
Buttermilk
View this post on Instagram
Buttermilk pancakes served with berries, crème Fraiche, and drizzled with maple syrup – this is heaven on a plate. If you are looking for more pancakes for your riyal, Buttermilk is your best bet. They serve five scrumptious stacks of buttermilk options: from Nutella and mixed berries and caramelised bananas with crunchy walnuts to the decadent original buttermilk batter and pumpkin-spiced pancakes with caramelised apple. While you may spend the next few hours in a food coma, it's totally worth it.
Buttermilk, 2154 Abdulwahid Ibn Ahmad, An Nakheel, Riyadh 12385, Sat to Thurs 10am to midnight & Fri 12.30pm to 1am. Tel: 055 627 9170. @buttermilk.sa
David Burke
If it's all-American classics you're after, you can't go wrong with a plate of David Burke's fluffy pancakes smothered in syrup to sop up every bite.
David Burke, two locations: Riyadh Front, Gate 3, Sat to Wed 8am to midnight, Thurs & Fri 8am to 12.30am, Tel: 050 062 0101 & The Zone, Gate 2, Sat to Wed 8am to midnight, Thurs & Fri 8am to 1am, Tel: 011 210 2080. @davidburkeksa
Madeleine
View this post on Instagram
At Madeleine, there are three varieties of pancakes on offer, which pack a punch in terms of both size and flavour. Order the classic stack with maple syrup, whipped cream and butter; the berries pancakes with Italian mascarpone cheese, or – a What's On favourite – the cinnamon-flavoured pancakes with caramelised apples and hazelnuts, and vanilla cream.
Madeleine, The Boulevard Riyadh, daily 7.30am to midnight & Riyadh Front, daily noon to midnight. Tel: 9200 10330. @madeleineksa
Moonshell
View this post on Instagram
Who says those with dietary requirements should have to miss out on the pancake fun? If you're looking for a vegan version, stop by Moonshell for a stack of savoury lentil pancakes.
Moonshell, King Abdullah Dt, Riyadh 12233, daily 7am to midnight. Tel: 053 630 0962. @moonshell_sa
Ohayou
View this post on Instagram
Ohayou may only do one pancake, but boy is it a pancake to contend with: Buttery, golden griddle cakes that you can (and should) smother liberally with luscious syrup.
Ohayou, Prince Turki Bin Abdulaziz Althani St, Hittin, Riyadh 11564, Mon to Thurs 7.30am to 3pm, Fri & Sat 9am to 4.30pm. Tel: 011 207 7220. @ohayou_sa
Opla
View this post on Instagram
Serving up delicious brunch grub, Opla does decadent all-day breakfast. And if you want to shake up your Pancake Day experience, try their Dutch Baby, an American take on a German pancake that somewhat resembles a Yorkshire pudding. Opla's Dutch baby pancakes have earned themselves a loyal fan following. It's easy to see why: a puffed-up beauty topped with seasonal berries and a finishing drizzle of syrup. It's the stuff of dreams.
Opla, 3692 Prince Mohammed Ibn Salman Ibn Abdulaziz Rd, Ar Rabi, Riyadh 13315, Sat to Thurs 8am to 4pm & Fri 8am to 5pm. Tel: 055 299 9126. @opla_sa
O'PO the O'Room
View this post on Instagram
For when you are in need of a fluffy ricotta pancake, try the ones at O'PO served with Nutella. Ricotta pancakes differ from classic buttermilk American-style ones in that they tend to be lighter, softer, yet custard-creamy on the inside, and O'PO pretty much nails it.
O'PO the O'Room, Al Aqiq, Riyadh 13312, daily 9am to 12.30am. Tel: 059 131 7473. @theoroom.sa
Pink & More
View this post on Instagram
This café sure knows how to whip up a mean stack of old school pancakes. Fluffy, light and buttery – these goodies are sure to start your Pancake Day off right. Combine this with an ultra-chic setting with picture-worthy pink interiors, and you've got yourself a winner.
Pink & More, 7101 Abi Bakr As Siddiq Rd, An Nada, Riyadh 13317, daily 6am to midnight. Tel: 054 780 7785. @pinkandmore.sa
Shakespeare and Co.
View this post on Instagram
For a Victorian-era setting in which to enjoy a well-stocked menu, few places beat Shakespeare and Co. The restaurant goes aux Français for its pancake choices, offering a variety of galettes. Fill these folded parcels with traditional fillings like egg, cheese and turkey ham, or go with a smoked salmon option. Alternatively, keep it simple with a plain pancake, where it is served with toppings, including chocolate, marshmallow, bananas, blueberry and strawberry.
Shakespeare and Co, Servcorp Olaya Towers, Prince Muhammad Ibn Abd Al Aziz, Al Olaya, Riyadh 12213, daily 7am to 1am. Tel: 011 248 5111. @shakespeareksa
So Delicious
View this post on Instagram
So Delicious is a great brunch suggestion to have up your sleeve. Fancy something super sweet? Try the white and milk chocolate-doused version, topped with puffed rice, praline and toffee sauce, for a sugar rush like never before.
So Delicious, The Esplanade, Prince Turki Ibn Abdulaziz Al Awwal Rd, King Saud University, Riyadh 12371, daily 9am to 4pm & 7pm to midnight. @sodelicious.sa
Terra's Table
View this post on Instagram
Everything served at Terra's Table is plant-based, and that includes the gluten-free oat pancakes doused with maple tahini syrup and topped with sumac roasted strawberries. Yes, please.
Terra's Table, 4823 King Abdul Aziz Rd, Ar Rabi, 7018, Riyadh 13315, daily 10.30am to 11.30pm. @terrastablesa
Urth Caffe
View this post on Instagram
This hotspot holds a strong reputation for a mean all-day breakfast, with some seriously stunning pancakes on offer. Think buttermilk pancakes griddled to a golden brown and served with whipped cream, Sidr honey butter and maple syrup. With a flat white on the side, this is one way to start your morning right.
Urth Caffe, various locations, including Riyadh Park, Sat to Thurs 9am to midnight & Fri 1pm to 1am and Oud Square, Diplomatic Quarter, daily 7am to 1am. @urthcaffesaudi
Zeila
View this post on Instagram
Come for breakfast and stay for the Russian pancakes stuffed with cream cheese and served with maple syrup and mixed berries. They are light, delectably moist, and so easy to finish.
Zeila, Imam Abdullah Ibn Saud Ibn Abdulaziz Rd, Al Hamra, Riyadh 13217, Sat to Thurs 6.30am to 1am & Fri 2pm to 1am. Tel: 011 488 8880. @zeilalounge
Marks & Spencer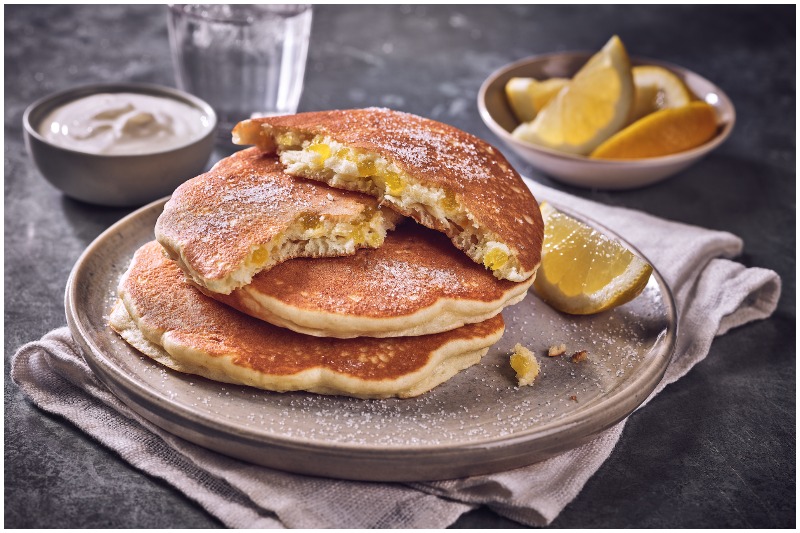 Prefer to flip your own pancakes at home? Get delicious fluffy pancakes in minutes with the Pancake Shaker Mix from Marks & Spencer Food. Just add water to the mix and shake – or if you're opting for the Plant Kitchen Pancake Shaker Mix, we recommend adding your favourite plant milk to the mix for the perfect fluffy consistency.
Then, add tasty treats with toppings such as the Chocolate Medley Sprinkles or the Colin Sprinkles. For something more sophisticated, try adding shavings of smooth and creamy White Chocolate Chunks or roughly chop a few handfuls of Dark Chocolate Chunks. As for the syrups, you can keep it classic with the Organic Canadian Maple Syrup or get fruity with the Really Raspberry Sauce. If you like a little zest, drizzle your pancakes with the Lemon Sherbet or indulge in the irresistible rich and smooth Belgian Chocolate Sauce.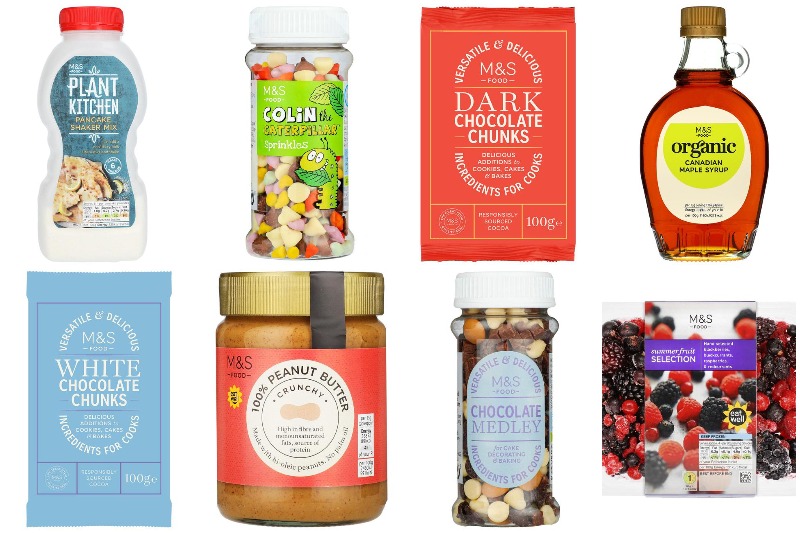 For added protein, head for the 100% Peanut Butter from M&S Eat Well range, spread it over your pancakes and top with frozen Summer Fruit Selection – a healthier take on peanut butter jelly. Marks & Spencer Food has everything you need to have a flipping good Pancake Day.
Marks & Spencer, various locations. @marksandspencerksa
Images: Provided / Instagram
> Sign up for FREE to get exclusive updates that you are interested in