6 brilliant things to do in Riyadh this weekend: March 10 to 12
Happy weekend…
Looking for some activities to fill your weekend? We've got you covered. Riyadh's social calendar is packed with things to do, from art exhibitions and new movie releases to a tapas night.
Here are six brilliant things to do in Riyadh this weekend.
Thursday March 10
1. See the newly released Saudi feature film "Champions"
The 90-minute comedy is a remake of the Spanish film "Campeones" and has been adapted for the Arab market by Saudi scriptwriters Maram Taibah and Wael Al Saeed to raise awareness of people with special needs. It tells the story of Khaled, the arrogant and temperamental assistant coach of a top Saudi Arabian football team. After a particularly frustrating match, Khalid's temper lands him in disciplinary court. He is deprived of his prestigious job, receives a big blow to his ego, and is forced to carry out an unexpected community service: coaching a non-professional team of players with intellectual disabilities. It is only as his new team counters his lousy attitude with good humour, kindness and an infectious innocence that Khaled realises how much he has to learn from them.
Book your tickets here.
2. Check out a new art exhibition
View this post on Instagram
Ascott Rafal Olaya Riyadh has transformed its hotel lobby into an art gallery with the launch of the Olay-Art exhibition. Check out the artworks and paintings, which will be displayed for two weeks. Plus, the exhibition is free to visit.
Olay-Art Exhibition, Ascott Rafal Olaya Riyadh, Olaya St, 7706, Sahafa, Riyadh, Opening night on March 10, 7.30pm to 9.30pm. The exhibition will continue for two weeks. For registration, contact 050 012 8321.
Friday March 11
3. Immerse yourself in art at Diriyah Biennale
View this post on Instagram
Here's your last chance to catch the Diriyah Biennale, presenting works of over 60 Saudi and international artists and exploring the theme of social transformation. Don't miss your chance to attend the last performance of "This Sea is Mine" by artist Marwah AlMugait. The performance will take place at 6.30pm and 9pm.
Diriyah Contemporary Art Biennale, Jax District, Jax 01, 7120 Muhammad Ibn Rashid Al Uraini, Al Diriyah, Al Jadidah, 2598, Riyadh 13732. Until Mar 11, 2022. Sat to Thurs 11am to 11pm & Fri 2pm to 11pm. Reserve your ticket here.
4. Enjoy tapas night at Azure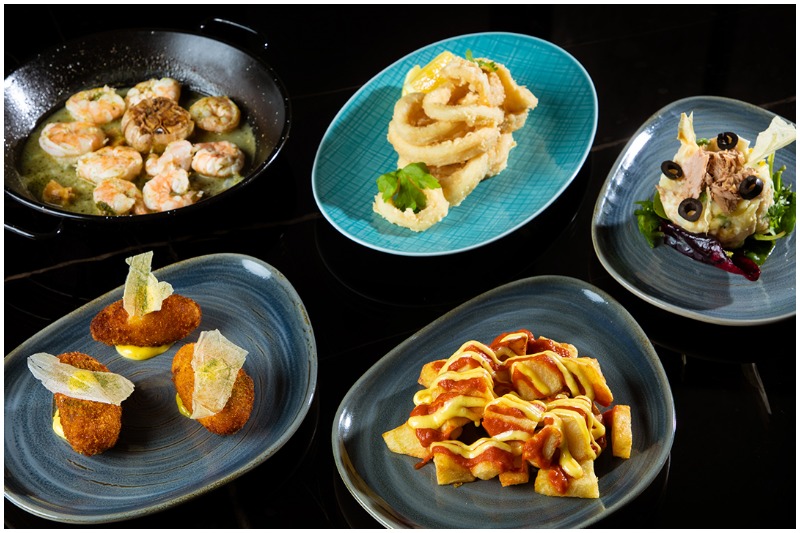 If you're on a hunt for tapas in Riyadh, vibrant hotspot Azure is the place to be. Tuck into bites like patatas bravas, gambas, mixed olives, tuna tartare, fried baby squid, meatballs, lamb skewers, seafood or chicken croquettes, and so much more.
Tapas Night at Azure, Hyatt Regency Riyadh Olaya, Olaya St, Riyadh 12213, every Friday until March 25, 6.30pm to 10.30pm. SAR199 per person. Make your reservations here. Tel: 053 341 1234. @hyattregencyriyadholaya
Saturday March 12
5. Pop by the region's largest perfume expo
View this post on Instagram
As part of the Riyadh Season festivities, the perfume expo showcases more than 200 regional and international brands. You'll get to witness the launch of new scents from various brands for the first time and have the opportunity to create your own fragrance.
The Perfume Expo, Riyadh Front, until March 14, from 1pm. The ticket price starts from SAR25. Book your tickets here.
6. Experience Squid Game without the deadly penalties
View this post on Instagram
You might also like
Fans of "Squid Game" will get the chance to try the games seen on the hit Netflix show at Riyadh Boulevard City – but without the violence, of course. The survival challenges include 'Red Light, Green Light', where a person whose movement is detected will be eliminated, the tug-of-war and the marble game.
Squid Game Experience, Riyadh Season, Riyadh Boulevard City, until Mar 31. SAR230 per person. Only for 18 years and above. Book your tickets here. @riyadhseason
Images: Provided / Instagram
> Sign up for FREE to get exclusive updates that you are interested in