Brunch Review: Hellenika, Al Khobar
What better way to celebrate the weekend than to revel in Hellenika's scrumptious afternoon soiree…
Who doesn't love a Greek meal now and again? And when Hellenika launches its very first brunch, we're thrilled that its vibrant menu offering now includes the most leisurely and sociable meal of the week. We've waxed lyrical about this place before, which is why we're more than happy to make a trip back just to try its brunch experience.
With its quintessentially Greek interiors, white-washed walls with embalmed olive trees and Santorini-style furnishings, and a gorgeous view of the sea, Hellenika does an excellent job of making you feel like you're on holiday on one of the Greek islands.
Smells of freshly grilled seafood and meats fill the air while the sounds of Greek music by the sought-after Greek band Casus Belli hum in the background.
And its new Saturday brunch deal is a cracker. For SAR299, it is more than fair for the amount of food that will land on your table, which includes beautiful sharing platters of starters and signature dishes from the menu. You'll also find a selection of mains and desserts in dedicated areas of the restaurant.
Be prepared to feast like a king
Bread, that steadfast starter for a Greek meal, sets a confident tone for Hellenika's brunch, with no fewer than two varieties. The signature olives arrive next, alongside three traditional dips – the classic Tzatziki, Mediterranean hummus, and Kopanisti (spicy goat cheese with peppers and oregano) from Naxos Island.
Pace yourself, though, as there are lots more to come. A colourful smorgasbord of salads includes the baked halloumi; Dakos salad made up of cherry tomatoes, barley rusks, and feta cheese; vine leaves stuffed with rice (Dolmadakia); and the Ospriada salad filled with legumes, cabbage, pomegranate, and rucola leaves – all prove ideal for igniting the appetite.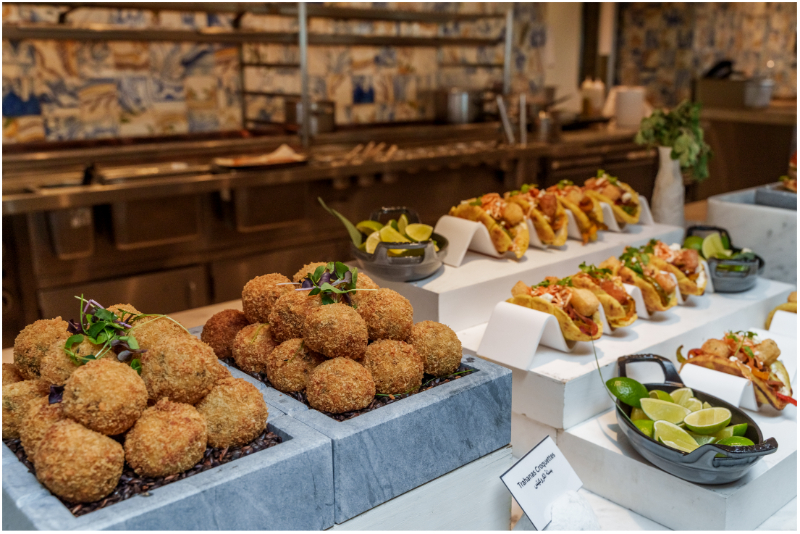 Want something more comforting? Walk up to the counter and Head Chef Evangelos Liakouris will fill up your bowl with the soup of the day – a flavourful Greek lemon chicken soup. It is simple but delightful, and we still daydream about the silky, rich broth.
While you're at the counter, why not pile up your plate with more entrees? There's a spread of hot mezedes, such as the deliciously light yet flavourful vegetarian Trahanas croquettes stuffed with mushrooms and herbs, and Graviera and mushroom flatbread. Our favourite is the moussaka made with thick layers of eggplant, zucchini and tomatoey lamb mince. So moreish.
Graze on main dishes
Seafood and meat make up the mains section: tempura fish fillet, grilled shrimps, chicken Souvla, and beef sliders, with sides of fragrant herbed rice. The chicken skewers are grilled to perfection, but the juicy grilled shrimps are the star of the show, and we wish we had saved more space instead of over-indulging in the small plates of starters. Making sure no one goes hungry, Hellenika has also catered to vegetarians with its vegetable tacos.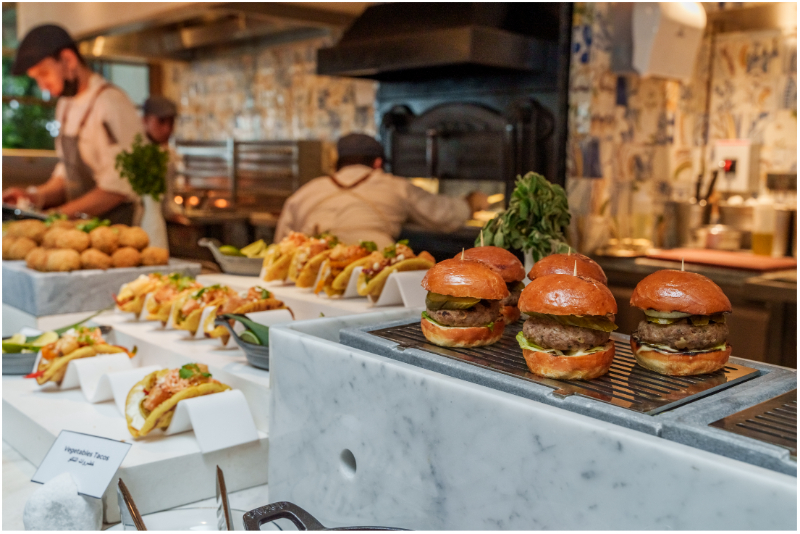 The main courses certainly don't disappoint, with another stand-out being the lamb orzo that's made for sharing. Expect little nibs of pasta in a rich, silky sauce and topped with Graviera cheese. Gentle spicing and the herbs-enhanced flavours give this simple dish a beautiful nuance.
And just as we think we're done with the mains, the server brings out a sharing side dish of Cypriot fries drenched in truffle cream. Who can resist chips anyway?
The perfect finish to a satisfying meal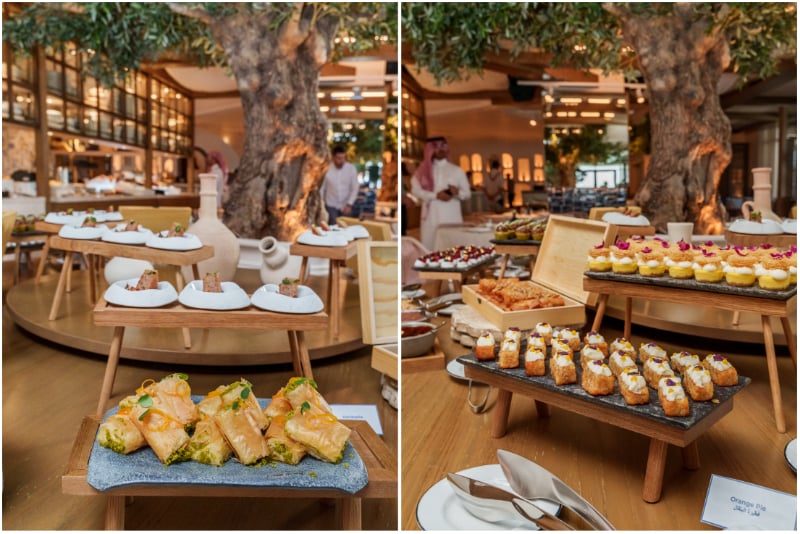 An array of unique desserts that once again spotlights the breadth of Greek gastronomy brings a close to the afternoon soiree.
We continue our feeding frenzy, this time eating away through the assorted baklava; the fluffy Karidopita (walnut cake); semolina halva; saffron cheesecake; Ravani (coconut cake); the golden crispy Galaktoboureko (custard pie baked in filo); lemon basil pavlova with berries; pistachio dacquoise and chocolate mousse; the Mosaic chocolate pebble; and the orange pie.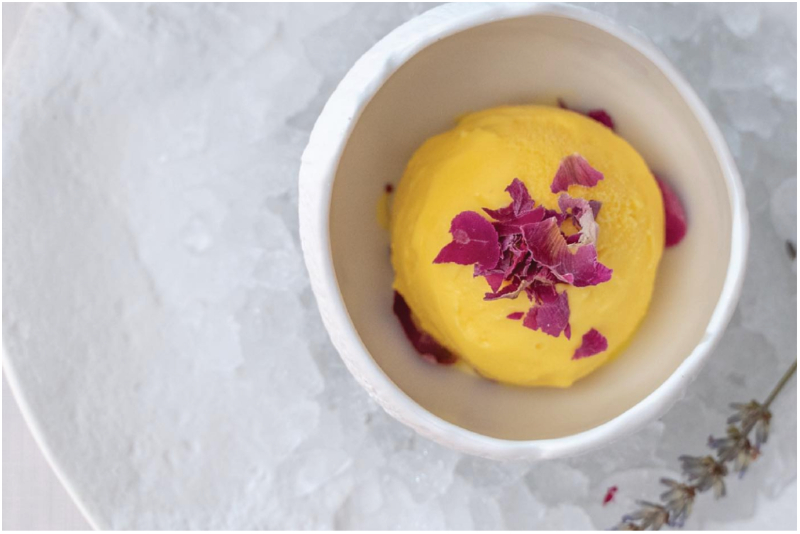 Finishing off the meal on a sweet note, the Cyclades (saffron and rose petals) ice cream is served for the whole table to share.
Don't forget the handful of craft mocktails – including a DIY zero-proof Bloody Mary station – all incorporating Greek flavours in ways subtle and otherwise, to wash it all down.
Our verdict on the brunch experience
Even from our first restaurant visit, it's clear that Hellenika has the potential to be an ideal spot for the masses, whether you love Greek cuisine or you want to give it a try.
And despite its first-ever brunch experience, Hellenika pays close attention to the details, with the presentation of the brunch concept holding just as much importance as the taste, and keeping the atmosphere cosy and inviting.
To sum up, is Hellenika's brunch experience an exciting new addition to Al Khobar's dining scene? Yes, we definitely think so.
So, be sure not to miss the next one coming up on October 1.
Hellenika Brunch, Sat Oct 1, 12.30pm to 4.30pm, 1st Floor, Al Matal Complex, Alkurnaish, 6563, Al Khobar, Saudi Arabia. SAR299 per person. Tel: 9200 12579. @hellenikakhobar
> Sign up for FREE to get exclusive updates that you are interested in