10 fun things to do in Riyadh this weekend: November 17 to 19
Hello, weekend…
Looking for activities to do with your friends and family? Gear up and grab your crew for a day of fun adventure and activities in Riyadh. From exciting dining destinations and exhibitions to a desert adventure, here's our list of ten fun things to do this weekend.
Thursday November 17
1. Celebrate 'Princess Day' at Winter Wonderland
View this post on Instagram
Winter Wonderland is creating a magical world filled with castles, carriages, and plenty of princess-worthy splendour for its Princess Day party on Thursday November 17. It's the perfect excuse for your daughters to put on a tutu and don a tiara to get free entry into Winter Wonderland. There'll also be a host of exciting events and activities, special offers and even gifts.
Princess Day, Nov 17, 4pm to 2am, Winter Wonderland. @riyadhseason
2. Check out Riyadh Season's latest zone, The Groves
View this post on Instagram
The Groves is back at the Diplomatic Quarter for its second year in Riyadh Season. Experience the craft market and the variety of restaurants available – from the Zama Zulu restaurant offering African dishes along with live dance shows, and the Zodiac Garden restaurant specialising in Italian and Japanese dishes, to an authentic Italian pizzeria and a Greek-inspired restaurant, Khawaja Yanni. If you love the cold, immerse yourself in the Arctic experience, where the temperature reaches -18 degrees inside The Polar Ice Bar, while football fans can head to the Wadi World Cup Lounge, where the World Cup matches will be screened.
The Groves, Al Khuzama Park, Diplomatic Quarter, Riyadh, until Jan 15, 2023, 4.30pm to 1.30am (Gate closes at 12.30am). The tickets for general entry are SAR50 from Sun to Wed and SAR75 from Thurs to Sat. Tickets and reservations can be booked via Groves mobile app. @the_groves_sa
3. Tuck into an unlimited seafood buffet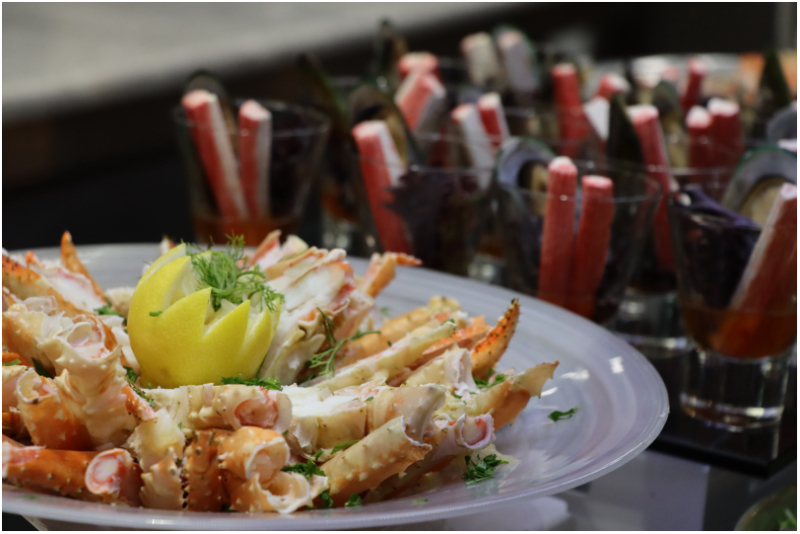 Every Thursday is seafood galore at Seven Restaurant, the international restaurant located in Courtyard by Marriott Riyadh Northern Ring Road. Begin your evening by diving into the fresh salad bar and filling up on the satisfying live seafood station. Hot dishes for your mains include crispy calamari, grilled fish marinated in a lemon butter sauce, seafood tramadol, and more. Each of your seafood cravings will be indulged at Seven with its extensive offerings. You'll also be spoilt for choice with the range of desserts available, from chocolate eclairs to cheesecakes and brownies.
Seafood Night Buffet, every Thurs 7pm to 11pm, Seven Restaurant, Courtyard by Marriott Riyadh Northern Ring Road. SAR230 for adults & SAR115 for children. Tel: 011 521 0000. @courtyardriyadhnorthernring
Friday November 18
4. Brunching at Sadelle's
View this post on Instagram
New York brunch institution, Sadelle's, is now open at Mansard Riyadh hotel. It is an all-day dining concept that transforms from a brunch-centric haven to a power lunch hotspot and a relaxing dinner locale. The menu is all about New York deli classics – from its famed bagels and house-made sticky buns to house-cured salmon, chopped salads, and a decadent egg sandwich. Enjoy these heavenly bites with a cuppa, and you're good to go.
Sadelle's, Mansard Riyadh, A Radisson Collection Hotel, 4248 Prince Mohammed Ibn Salman Ibn Abdulaziz Road, Riyadh 13315-6721, daily 11am to 3pm & 7pm to midnight. Tel: 011 829 0929. @sadellesriyadh
5. Adventuring in the desert
View this post on Instagram
Searching for a cure for your insatiable wanderlust? Then, don't miss out on RedSand's 'Wonderlust' immersive experience in the desert, designed for an evening of escapism, solitude and adventure. Go hiking, enjoy dinner around the bonfire and gaze at the stars – these are some of the few experiences you could enjoy during your evening desert safari at Wonderlust.
Wonderlust, Nov 18, 4pm to 1am. Book your tickets here. SAR599 per person. Snacks, beverages and dinner will be provided. @redsand.ksa
6. Swap 'til you drop
View this post on Instagram
Clothes swaps are the hottest – and greenest – new way to refresh your wardrobe. In collaboration with Saudi Fashion Commission, the Ministry of Culture, and YOOX NET-A-PORTER, Fawaz Al Hokair Group Fashion Retail, the largest franchise retailer in Saudi Arabia and the MENA region, is organising a clothes swap event this weekend at U Walk. All you need to do is bring a clean item in good condition and exchange it for one you like.
Swap Shop, Nov 17 to 20, 6pm to midnight, U Walk, Riyadh. @alhokairfashion
7. Book a table at KAFD's Level 23 dinner club
View this post on Instagram
The 'Level 23' weekly series of pop-up dinner clubs, hosted by KAFD, celebrates food and fine dining by bringing diners together to unwind in a chic rooftop setting. On Friday November 18, Chef Eric Lee, the man behind Ugly Noodles – one of Dubai's coolest concepts that dish out Hong Kong street food classics exclusively via pop-ups around town – and Khaled Alsaadi, an Emirati chef and co-founder of Fae Café in Abu Dhabi, will be taking diners on a night of deliciously Asian cuisine with a contemporary twist. Dishes include starters such as Sichuan wontons, pan-seared gyoza and scallop siu mai, Dan Dan noodles and Wagyu beef cumin skewers for mains, and choux pastry filled with black sesame cream and an Asian-style cheesecake gelato.
'Level 23' KAFD Dinner Club, every Fri, 7.30pm to 11pm, KAFD Area 4, Level 23. Make your reservations here. SAR1,000 per person. @kafd
Saturday November 19
8. Reservations are now open for The Menu film
What would you give to have the best dinner in the world? That's the question The Menu, a new film from director Mark Mylod, seeks to unravel. A couple (Anya Taylor-Joy and Nicholas Hoult) travels to a coastal island to eat at an exclusive restaurant where the chef (Ralph Fiennes) has prepared a lavish menu with some shocking surprises. Read our spoiler-free movie review here.
The Menu, Thriller/Horror/Comedy, Rating R18, 1h 45mins. Book your tickets here.
9. Shop the Carrera x Ducati eyewear collection
View this post on Instagram
Carrera Eyewear makes its MotoGP debut as a Ducati Corse official partner. With this, they have launched a fantastic 2022 limited edition Carrera|Ducati Collection, where sport and fashion meet passion and speed. Offering a full range of iconic sun and optical frames, the collection is a perfect fit for those looking to stand out from the crowd, to be unique, bold, and inimitable as the frames focus on style, sophistication, performance, and trust. Enriched by styles that combine the same design inspiration with thinner profiles and light constructions, they are created with motorcycle riders as the target in mind but are also suitable for everyday use for anyone searching for an elegant but sporty accessory to complete their everyday look.
The Carrera|Ducati Collection is available at these stores in Riyadh: Mugla Optical at Riyadh Front, Al Salman Optics on Takhassusi Street & Five Seasons flagship on Kind Fahad Rd.
10. Check out The Line exhibition at JAX
View this post on Instagram
Ever wondered what it will be like to live in NEOM's The Line city? You now have the chance to see how it looks at The Line Exhibition at Diriyah's JAX district. During your visit, you will experience detailed designs, architectural models, and informative films explaining the project in all its glory. The six-month-long exhibition in Riyadh offers a far more enriching and engaging experience that takes visitors on a remarkable journey, giving you an in-depth view of NEOM's sectors and its surrounding natural landscapes where people and technology will come together in harmony with nature. There will also be guided tours available in Arabic and English.
The Line Exhibition, until Apr 29, 2023, Sun to Wed 9am to 11pm, Thurs & Sat 9am to midnight, Fri 3pm to midnight. Tickets are free for all ages 12 years and above, but you must register your visit here. @discoverneom
Images: Instagram / Provided
> Sign up for FREE to get exclusive updates that you are interested in