Discover Downtown Dubai's perfect city oasis, the Address Sky View
Sponsored: One of the best Dubai hotels for a superlative view…
Where will you stay on your next trip to Dubai? The city isn't short of luxury accommodation, but if you're looking for a hotel with sky-high views, look no further than the Address Sky View in the heart of Downtown Dubai.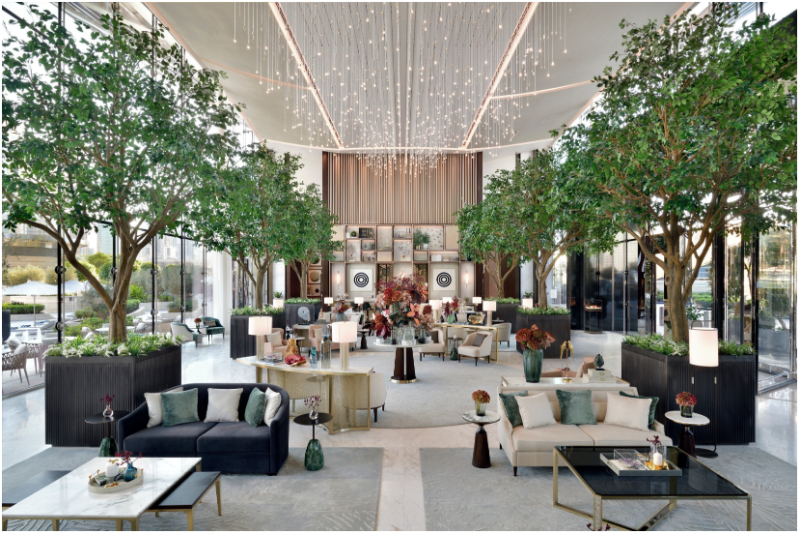 Luxurious and fabulous, it doesn't need to try hard to make an impression. Sweeping views of the city can be seen at every turn, and we'd be remiss not to talk about the sunrise and sunsets that you'll be experiencing throughout your stay here because they are pretty unforgettable.
All 169 rooms, most facing the Burj Khalifa, have a view with floor-to-ceiling windows. The tranquil colours are met with marble accents, luscious cream and dark wood hues, which take over everything from the room's lavish fittings to the bathroom's finishings.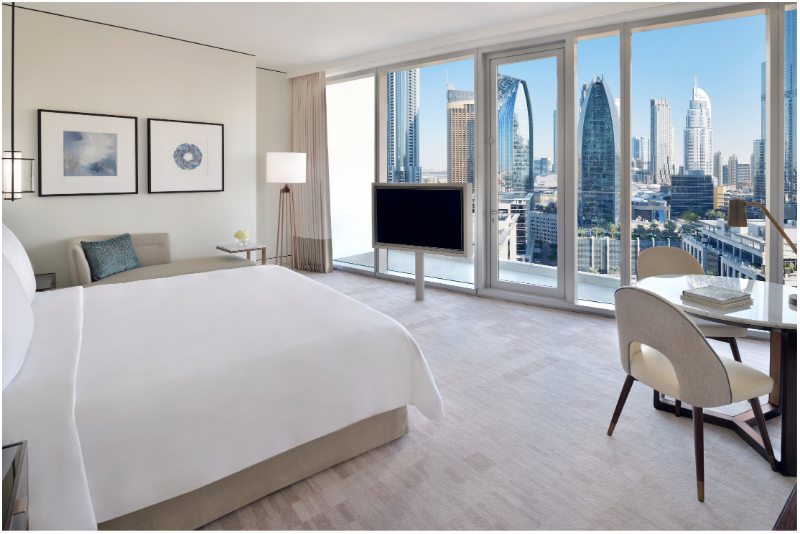 Regardless of which room you choose, they are incredibly spacious and boast all the comforts expected of a five-star hotel.
In Dubai for some shopping? Address Sky View is a convenient 10-minute walk to Dubai Mall, which is connected via an air-conditioned travellator.
A welcoming sanctuary after a day out
Unpack and indulge in a range of exclusive amenities at Address Sky View. If you're an adventure seeker, don't miss out on the Sky Views Observatory and the glass slide on level 57 of the building.
Or head to level 54 and relax in style at the stunning infinity pool. With a large sun-lounging deck, private cabanas, plus a bar with both pool and dry deck seating, the Address Sky View pool deck is all that and more – perfect for enjoying a day under the sun.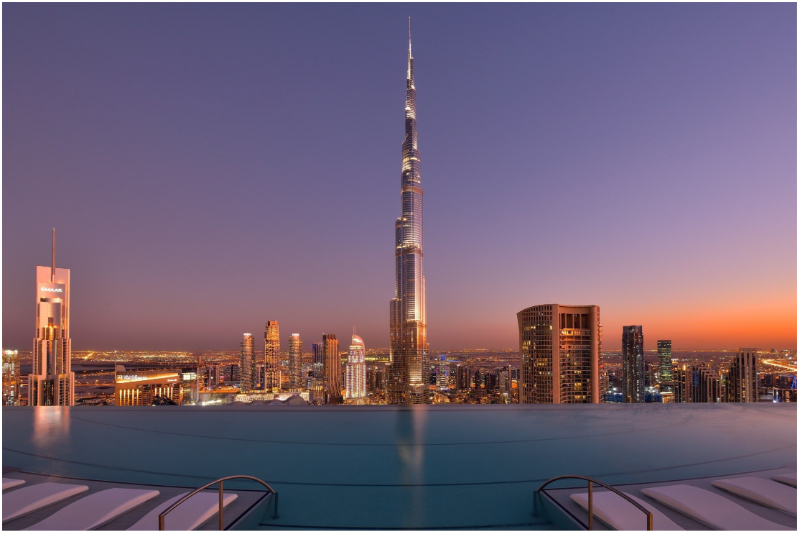 The best part is that the picturesque sundeck overlooks Downtown Dubai, with Burj Khalifa taking centre stage. As a result, the iconic city skyline can be seen from just about every vantage point. Be sure to spend some time at Deck Too, a pool lounge located in the lobby level, where you can enjoy the breathtaking views of Burj Khalifa, some refreshing beverages and perfect poolside accompaniments.
The hotel also houses five other dining concepts that you should try. Soaring 220-metres above sea level, Cé La Vi on level 54 is a Michelin-guide contemporary Asian restaurant and one of Dubai's highest rooftops. Of course, your experience here won't be complete without a quick snap on the famous Cé La Vi swing bench, with Burj Khalifa standing majestically in the background – it's a pretty setup that will make every IG enthusiast's heart flutter.
On the hotel's second level sits a Capri-inspired restaurant, Lucia's. Its lemon-hued space oozes coastal vibes, bursting with citrus trees and vibrant blue tiles to create an Amalfi aesthetic. From Sicilian seafood to Milanese di Vitello, diners can enjoy the authentic taste of Italy in each bite. We recommend coming here for dinner. Running late into the night, the atmosphere at Lucia's quickly builds, and the audio-visual system transforms the space into a party environment, where the hedonistic playlist is guaranteed to have you up on your feet.
If you're looking for a stunning indoor setting with epic DJ sets and crafted beverages, Amelia Restaurant & Lounge is the place to be. Set over a two-floor space, the design is daring and dramatic, with triple-height ceilings, a DJ booth disguised as an organ, and a super-sized bar backed by industrial-looking mechanics. As for the menu, expect an impressive array of Nikkei cuisine with Mediterranean hints laced into the dishes.
Those with a sweet tooth will find the Patisserie in the lobby irresistible. So, whether you're craving chocolates, cakes, pastries, or afternoon tea, Patisserie has got you covered. Plus, the hotel also hosts a great sundowner at the lobby level, where you can enjoy uninterrupted views of Downtown Dubai and Burj Khalifa.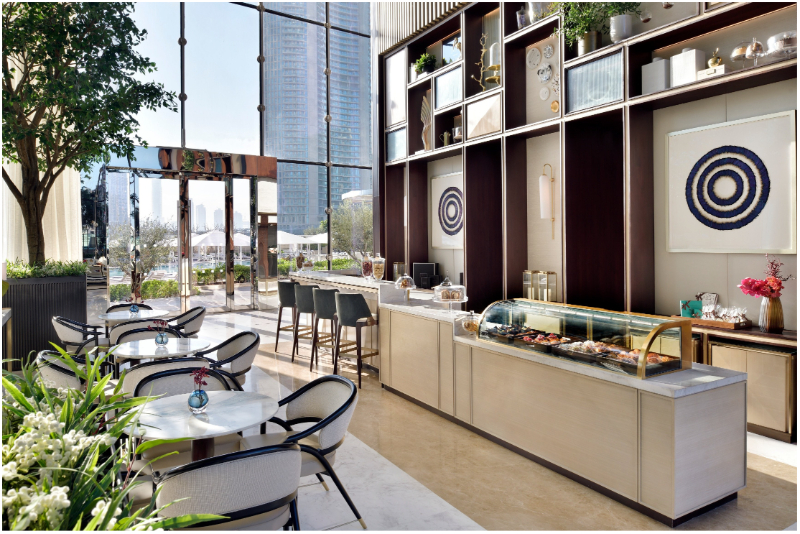 In the mood to try out a fun Saturday brunch? The Restaurant at Address Sky View runs an adults-only Poolside Brunch Club that packs plenty of punch. Expect elegant salads, sushi, seafood and wagyu sliders for food and expertly crafted mixed drinks on the menu.
Address Sky View, Sheikh Mohammed Bin Rashid Boulevard, Downtown Dubai, Dubai, UAE. Tel: +971 48 738 888.
Visit: Addresshotels.com/en/hotels/address-sky-view/
Images: Provided
> Sign up for FREE to get exclusive updates that you are interested in