The most romantic restaurants in Jeddah 
You'll fall in love with these restaurants…
When you're looking to take your special someone out to a romantic restaurant, you're spoilt for choice in Jeddah. Whether you're after dinner with a view or indulgent ingredients – caviar, anyone? – get ready to fall in love with these romantic restaurants in Jeddah.
Al Malaki Lounge Terrace, Rosewood Jeddah
View this post on Instagram
When you want to wow your partner, book a table at Al Malaki Lounge Terrace. Admire the panoramic views of the Red Sea, and then indulge in a top-notch seafood set menu. At the moment, it ranges from beluga caviar on lobster slices to king crab meat salad with gold leaf. Note: the dress code is strict, as the website advises women to wear abayas and men to wear business attire or long trousers.
Al Malaki Lounge Terrace, Rosewood Hotel, Corniche Street, Al Shatie District, Jeddah. Tel: (0)55 031 3255. rosewoodhotels.com
Angelina Cafe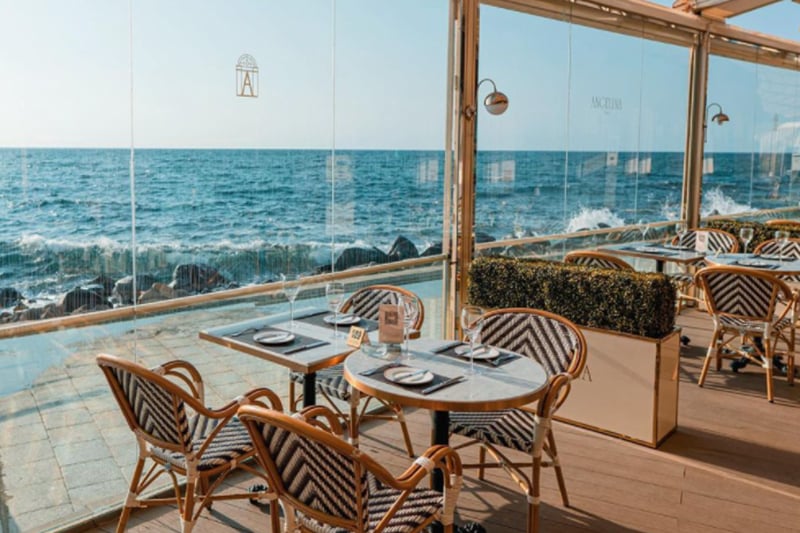 Angelina Cafe is a Parisian tearoom that is now in Jeddah, offering an upscale French restaurant and bakery experience with a stunning view of the Red Sea. The restaurant has a detailed breakfast, lunch, and dinner menu as well as a pastry corner, a bakery, and gelato ice-creams with huge glass windows that have a direct view of the sea. It is luxurious, and chic, and brings Paris to Jeddah and we cannot get enough.
Angelina Cafe, Next to Fakieh Aquarium, Jeddah, open 24/7. +966 12 288 0378. @angelinaparisksa
Aromi, Waldorf Astoria Jeddah
View this post on Instagram
They love you, they love you not? You'll have all the petals to work it out at Aromi. Thanks to the red roses, crisp white tablecloths and views overlooking the Red Sea, Aromi's romantic restaurant credentials are strong. The Venetian-inspired menu is all about fine dining, from the signature braised short ribs with black truffle to the wagyu fillet. And, as it's located inside the Waldorf Astoria Jeddah, Qasr Al Sharq, you know you're in for a classy night out.
Aromi, Waldorf Astoria Jeddah, Qasr Al Sharq, Corniche Road, Ash Shati, Jeddah. Sat to Thu 1pm to 12am. Tel: (0)9200 09565. hilton.com
Aubergine, Assila, A Luxury Collection Hotel, Jeddah

View this post on Instagram

Whether you say aubergine or eggplant, you'll be drooling over the food at this romantic restaurant. Make your way to the 20th floor of Assila, A Luxury Collection Hotel, Jeddah, which is by the pool, and soak in the impressive views of the city. If you believe that food is the way to your significant other's heart, then dig into these Arabic and Mediterranean dishes.
Aubergine, Assila, A Luxury Collection Hotel, Jeddah, Al Andalus, Jeddah, daily 12pm to 1am. Tel: (0)12 231 9800. marriott.com
Koa
View this post on Instagram
We are seriously in love with the décor at Koa – it's so slick with its navy sofas and floor-to-ceiling windows. Drink a mocktail at the Firefly Bar and then eat your way through the perfectly plated dishes. On the menu, you'll find a mix of modern European and Asian fusion cuisine, and dishes range from grilled scallops to a soft tiger prawn linguine. This gets the double tap.
Koa, Atelier La Vie, King Abdul Aziz Rd, No. 28, Jeddah. Tel: (0)12 662 9999. @dineatkoa
Myazu Saudi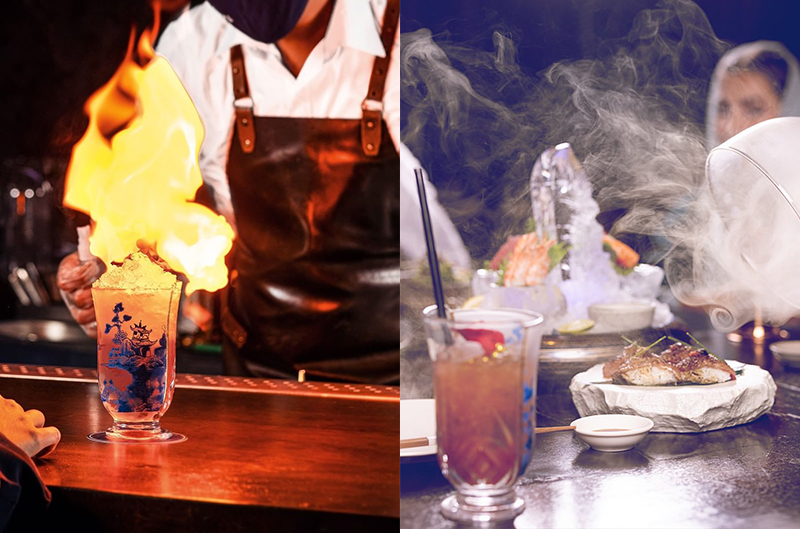 Memorable dining in a chic atmosphere, this fine-dining Japanese restaurant ought to be on top of your date night list. Located in Al Basateen Mall, Myazū creates modern dishes using traditional Japanese techniques. To start the meal in style, order a flaming Hinohana mocktail (lavender-infused hibiscus tea). What to eat? Try their wagyu gunkan sushi and salmon katsu. Sweet highlights include frozen mango mousse and Myazu magnums.
Myazū Restaurant, Al Basateen Mall, Prince Mohammed Bin Abdulaziz Street, Al Rawdah District, Jeddah 23431. Daily 1pm to 1am. @myazusaudi/myazu.com
Nobu Jeddah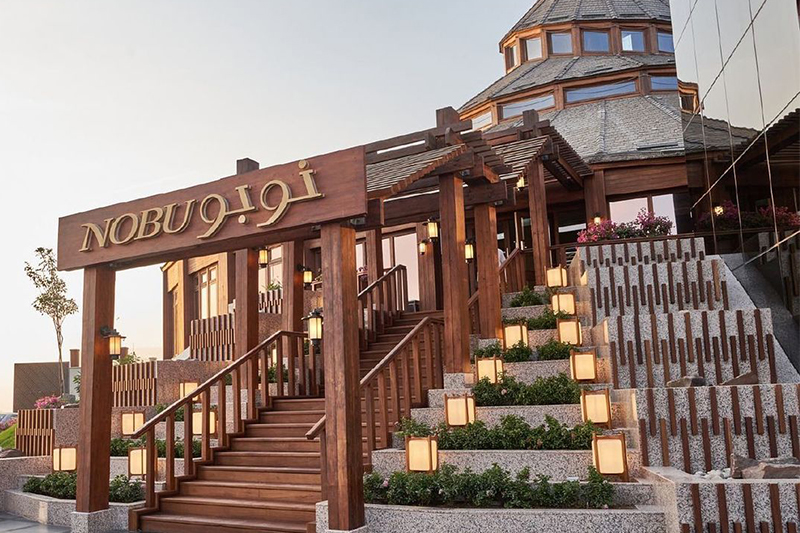 Known for its Asian fusion cuisine and stunning locations, fine-dining Nobu is arguably the world's most talked about restaurant. Located on the Jeddah corniche, Nobu brings a laidback yet elegant vibe with sea views and signature dishes like the black cod miso and Wagyu sliders. If you are in the mood for something a little more sophisticated than your average dinner, head down to the corniche for a taste of Japan in Jeddah.
Nobu, Ash Shati, North Corniche Road (next to Al Nawras Square), Jeddah 21424, daily 1pm to midnight. Tel: 050 880 2206 / 012 272 4646. @nobujeddah
Rosewood Hotel's Sky Lounge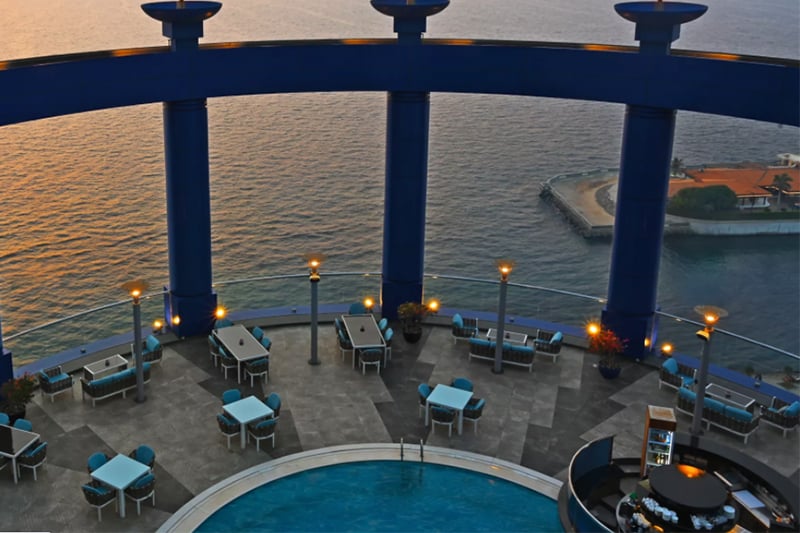 Rosewood's luxurious Sky Lounge is located on the 17th floor and not only offers breathtaking views of the Corniche and the Red Sea but also an exciting new contemporary menu. The rooftop restaurant also has a pool and is a great place to socialise or have fun, quality time with loved ones. Note that there is a minimum spend of SAR 250 per person on weekdays and SAR 300 per person on weekends
Sky Lounge, Rosewood Hotel Al Shatie District Jeddah, +966 12 260 7111. www.rosewoodhotels.co
Reyhana, The Ritz-Carlton, Jeddah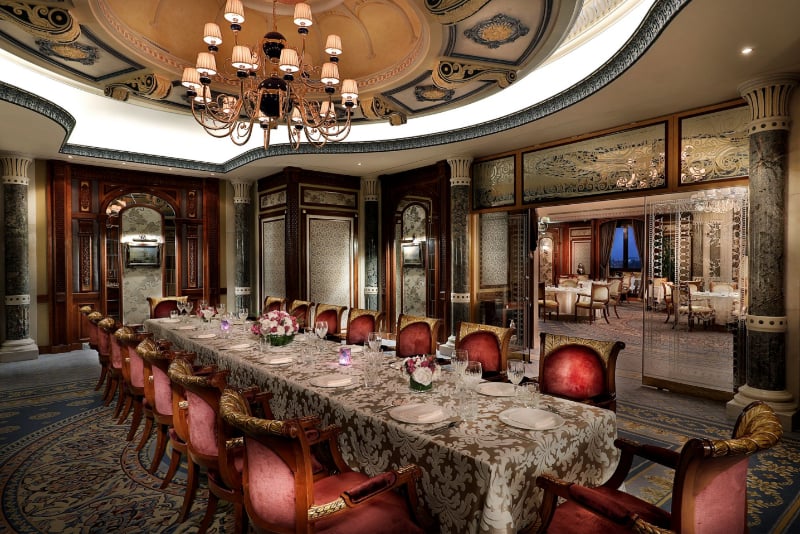 If you want to make your other half feel like a king or queen for the day, then book a table at Reyhana restaurant. The opulent setting, with white tablecloths, red plush seats, and swirling carpets, makes this fit for a special occasion. Try dishes from the menu that mixes Mediterranean, Moroccan, and Saudi Arabian cuisine, or visit the live cooking stations and buffet where you can eat to your heart's content.
Reyhana, The Ritz-Carlton, Jeddah, Jeddah 21493, daily 6.30pm to 11am, 1pm to 4pm, 6.30pm to 11.30pm. Tel: (0)12 231 4449. ritzcarlton.com
Shang Palace, Shangri-La, Jeddah
View this post on Instagram
Get ready for a touch of luxury at Shangri-La's Shang Palace. The modern sophisticated space offers a bit of privacy, as some tables are cornered off by screens and bookshelves. We found love with chef Keith Yeap's menu, which includes Insta-worthy brightly-coloured dim sum and an impressive roasted peking duck.
Shang Palace, Shangri-La, Jeddah, Burj Assila, Al Kurnaysh Br Road, Ash Shati, Jeddah. Tel: (0)12 696 8888. shangri-la.redro
Thai Gallery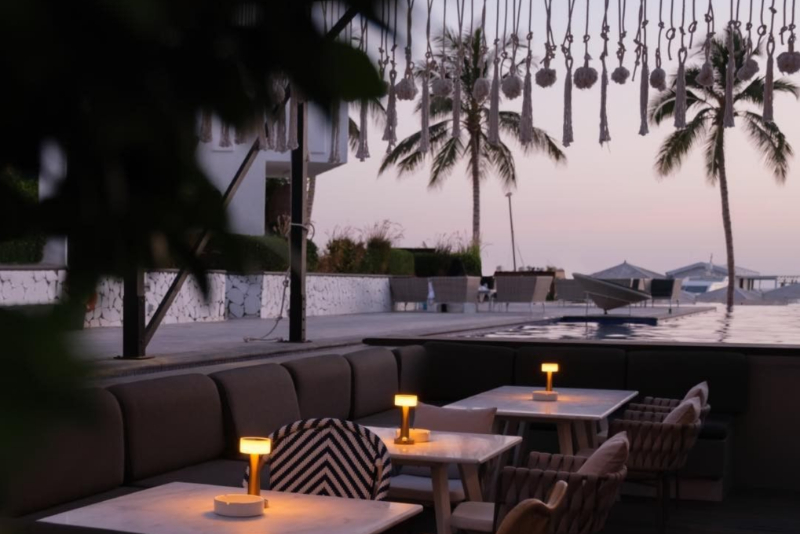 Located on Oía Beach in Jeddah, this Thai restaurant is a perfect spot for a picturesque and indulgent dinner. The restaurant originally started in Marbella and became popular for its stylish interiors, buzzing atmosphere, and exquisite Thai food. What to try? You can't go wrong with their classic pad thai and prawn satay paired with a passion fruit mojito. For something sweet try the fried banana with honey.
Thai Gallery, Oia Beach, Prince Abdullah Al-Faisal Street, 2688, Lulu District, Jeddah 2382. @thaigalleryjeddah
Toki
View this post on Instagram
Toki knows how to set the mood with its swanky seats and low lighting. The award-winning chef, Peter Lau Chee Wei, makes the kind of Chinese food that makes our hearts skip a beat. When budget isn't an issue, order the Szechwan aromatic crispy duck. As it's cooked with so much love, it needs to be ordered 24 hours in advance. Plus, there are quirky treats like the chocolate hazelnut crunch dumplings, which are filled with Nutella and hazelnut roasted paste.
Toki, Al Khalidiyyah, Jeddah, Sun to Wed 1pm to 11.30pm, Thu to Sat 1pm to 1am. Tel: (0) 50 466 5658. tokiksa.com
Images: Instagram
> Sign up for FREE to get exclusive updates that you are interested in