Restaurant Review: Beefbar Riyadh
The high ceilings, art deco-style, seamless service, and buzzing energy at Beefbar make it a dining delight…
To say that we are obsessed with Beefbar is an understatement; it has undoubtedly become one of our favourite upscale restaurants in Riyadh. The Monte Carlo import brings together a few of the best things in life: gorgeous design, exceptional service, and quality cuts of meat.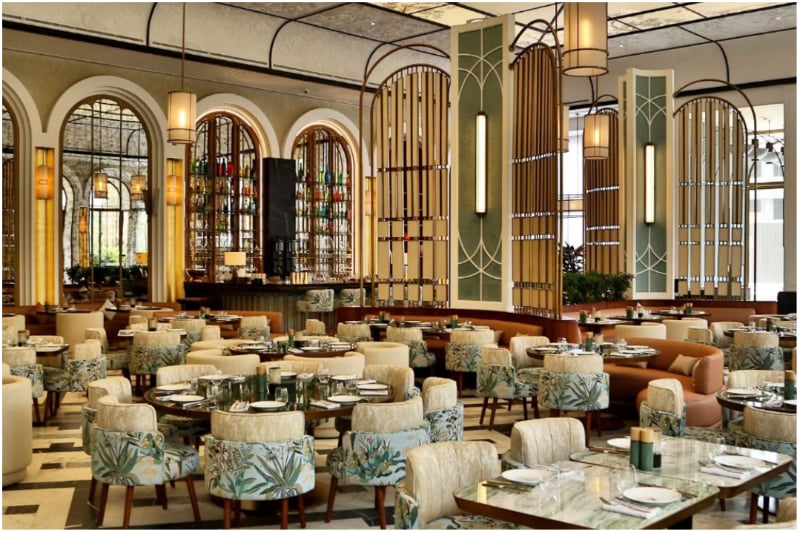 Step inside Beefbar through the heavy glass door and the luxe interiors will immediately strike you; the perfect setting to devour some impressive dishes. Drifting away from the stereotypical steakhouse aesthetic, Beefbar surprises guests with a luxurious but comfortable atmosphere and a warm, relaxing aura.
Plush seating with floral motifs anchors the main dining room and serves as a counterpoint to lavish swathes of marble and brass accents, while wood finishings add a touch of the luxe life.
View this post on Instagram
It evokes emotions of splendour with its harmonious designs incorporating a classic Parisian brasserie, art deco, and even modern industrial elements, resulting in a truly grand and impressive space.
With shades of green and bronze, complete with cut mirrors and floor-to-ceiling windows, the restaurant is a dazzling study in light and colours.
The mezzanine area, where the DJ booth is, adds a touch of entertainment to the space, and an intimate terrace offers respite from the hubbub of the restaurant.
We particularly love the high, intricate ceiling etched with flowers, though the literal centrepiece is the roof of stain-glassed flowers. Oh, and of course, not forgetting the cheeky emoji-inspired design on the flatware, too.
We're a little early for lunch, so take a seat at the marble bar, where we kick things off with a glass of Sangria and a sip of Beefbar's branded zero-proof gin.
Next up: the food. As per the chef's recommendations, we start our meal with the Goma spinach salad (SAR65). Light and bright, the spinach salad is kept simple with tamago (egg), bonito flakes, and sesame, with the miso yuzu dressing offering a delicate savouriness.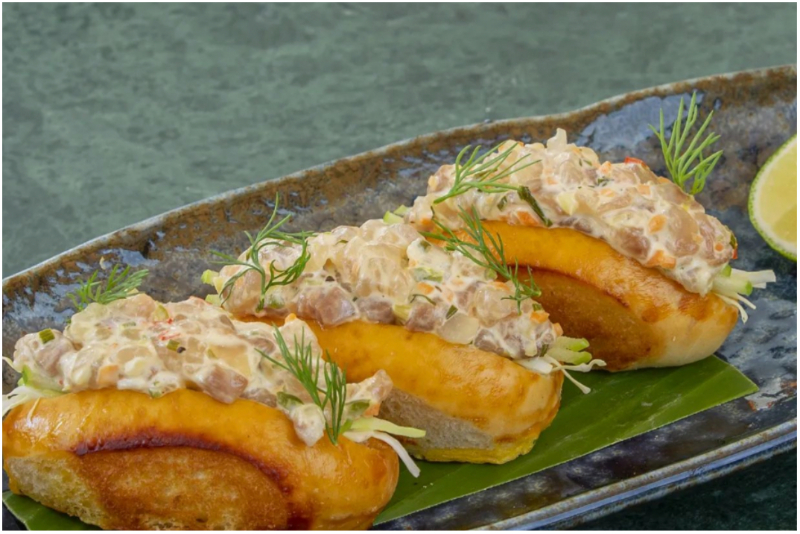 We have the addictive, crispy rock corn tempura (SAR60) and the lobster roll (SAR160) next. Beefbar's version of the latter is packed with shredded lobster tossed with lemon-mayo sauce and served in a toasted brioche bun made in-house. Despite the bun's slightly dry texture, we like that we don't feel weighed down, even after eating the whole thing.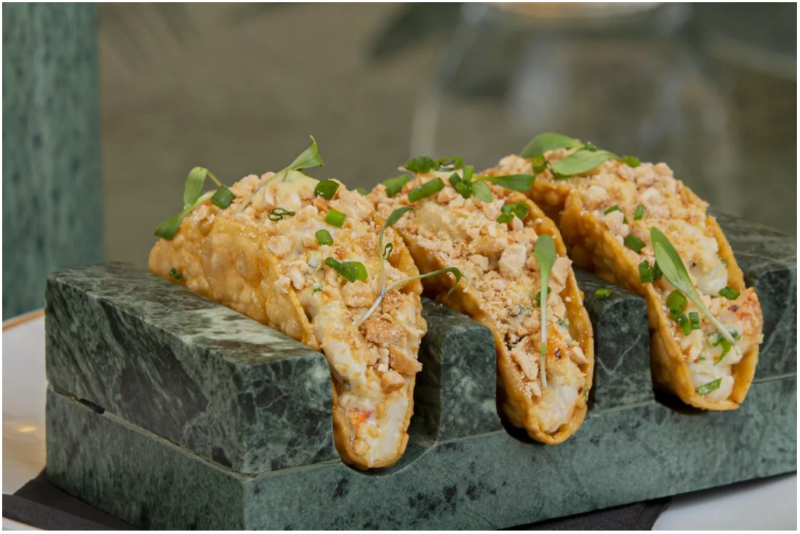 The crunchy crab meat tacos leave us speechless for a while – mainly for two reasons. First: Hearty fillings of sweet crab meat piled with chopped cashews for an interesting crunchy lift is at once indulgent and comforting. Second: Dining on these seasonal specials will set you back at SAR429. Yes, four hundred and twenty-nine riyals for three pieces of small tacos.
However, even with the hefty price – plus the fact that Beefbar's focus is, well, beef – this elegant restaurant delivers far more than the meaty specials it's known for.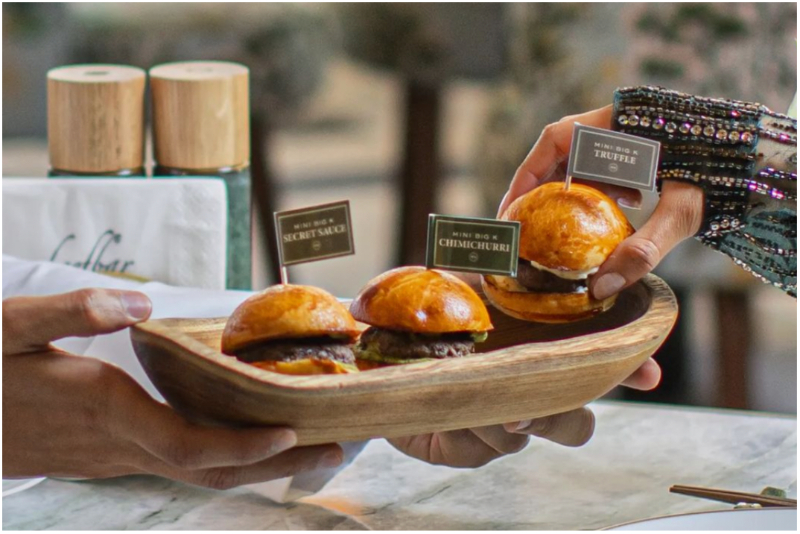 We also enjoy the trio of Mini Big K (SAR145) wagyu beef sliders. Juicy and perfectly grilled, the succulent patties are housed in soft, buttery homemade buns with assorted sauces.
Finally, we arrive at the star dish: the Filet Au Poivre Du Paradis (SAR475). The 200-gram Australian Wagyu tenderloin with pepper crust yields seamlessly to our knives, its thick and subtly sweet and smoky flesh hitting all the right notes with accompanying pepper beef sauce.
The sides are likewise delicious affair. We happily dig into the truffle cream mashed potato (SAR85), mild jalapeno mashed potato puree (SAR55), and plain homemade and hand-cut French fries (SAR45).
Each mashed potato is gorgeously pureed, smooth, creamy and delicious, and perfect in its own way. But our favourite is the jalapeno version – its subtle spice will have you coming back for seconds, although it could do with a smoky flavour.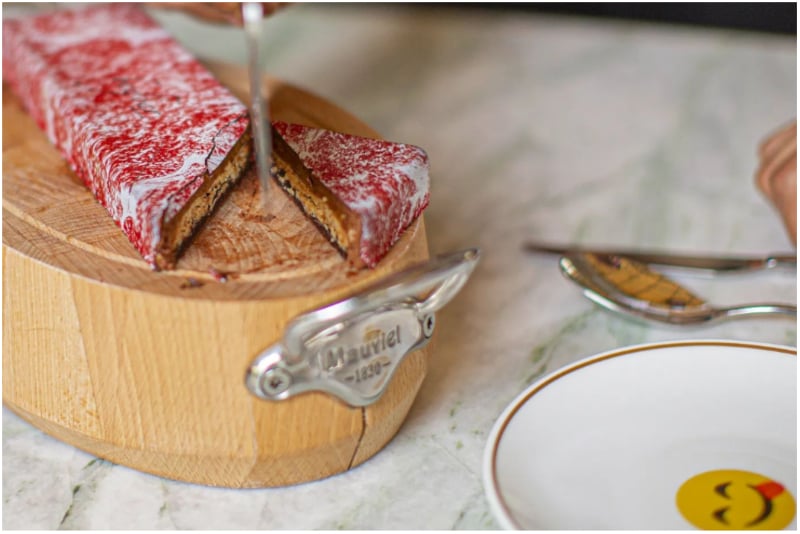 You'll be clutching your stomachs by now but save space for the iconic and highly Instagrammable marble chocolate bar (SAR175) – because your Beefbar experience isn't complete without one. It is a cleverly concocted mix of chocolate, with layers of crispy biscuit and melted caramel that looks like steak, created by French pâtissier Yazid Ichemrahen.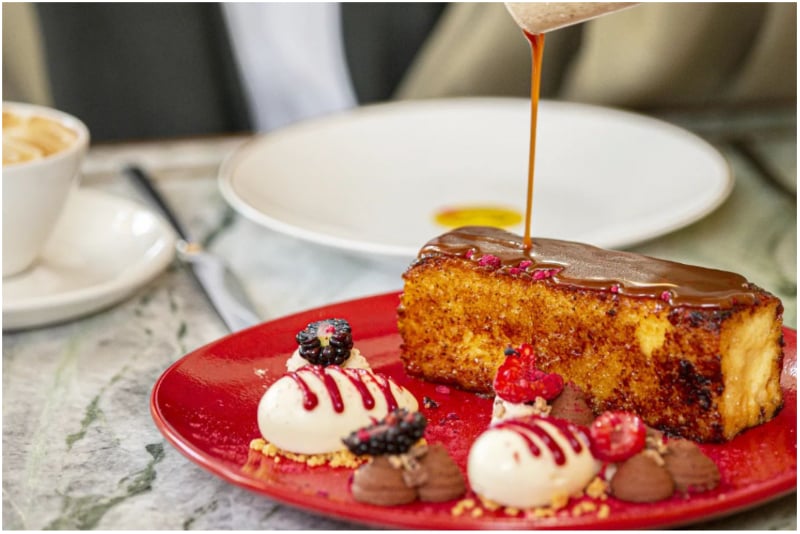 But what makes for a genuinely delicious end and a spectacular lasting impression is Beefbar's French toast (SAR144), which sees a riot of fluffy caramelised brioche surrounded by mounds of light cream, berries, cacao nibs and crumble. As a final touch, it's drizzled with salted caramel sauce. Just tell yourself it's one of your five a day…
Beefbar Riyadh, 8712 Prince Abdulaziz Ibn Musaid Ibn Jalawi St, 4237, Riyadh 12223, Sat to Wed 1pm to midnight, Thurs & Fri 1pm to 12.30am. @beefbar_riyadh
> Sign up for FREE to get exclusive updates that you are interested in