11 incredible AlUla restaurants to eat at today
It's time to dig in…
AlUla has to be one of (if not the) most stunning destinations in the Kingdom. The city has some of the most unique activities and landmarks you can explore in the Kingdom.
And if you're getting hungry after discovering everything about AlUla, you can make your way to the foodie side of the area. AlUla restaurants are just as good (if not better) at the alluring landscape in front of you.
Whether you're after some traditional Saudi food or want to dig into Japanese, this list likely has you covered. Here are the top AlUla restaurants.
ACME
View this post on Instagram
If you're after some signature burgers, you can head over to ACME. The venue already has a popular branch in Riyadh and has recently expanded to AlUla. Menu highlights include buffalo shrimp, mac and cheese bites, and crispy chicken bao buns. Take a bite.
ACME, AlUla 43562, Saudi Arabia, Sat to Wed 9am to midnight, Thu to Wed 9am to 1am. @acme.sa
AWNA Restaurant and Tea Lounge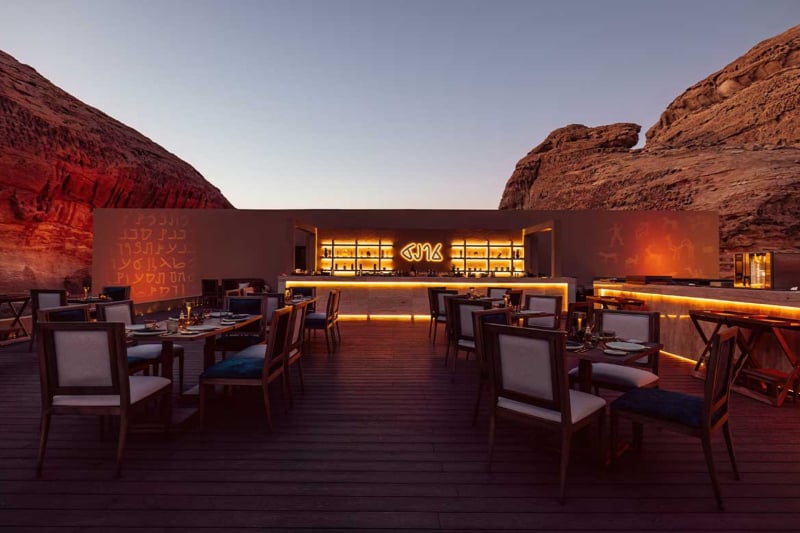 Inspired by ancient Hegra, AWNA is a journey into re-discovering local flavours. The venue creates cultural fusions when it comes to food in a more traditional fine-dining seating area at the restaurant. And at Tea Lounge, you can kick back and relax with smaller plates of food. The man behind it all is Michelin Star Executive Chef Anthony Jehanno, there are also multiple visiting chefs like pastry Chef David Girard, Oxeye founder Sven Hansen Britt, and Kae Shibata.
AWNA Restaurant and Tea Lounge, UNESCO World Heritage Site of Hegra, daily 5pm to 1am. experiencealula.com
Beit Wafa
View this post on Instagram
Located in the glam camping (glamping) experience site, 26North AlUla, Beit Wafa is a fresh farm-to-table restaurant. You can dig into authentic Arabic cuisine. Grab a few friends and head on over for breakfast, a late lunch or dinner. Veggie options are also available.
Beit Wafa, 26North AlUla, daily 7am to 11am (breakfast), 4pm to 11pm (late breakfast). @beitwafa.sa
Circolo
View this post on Instagram
Born in AlUla, Circolo Pizza is an authentic Italian restaurant. Step into the casual, rusting seating area, and dig into artisanal pizzas straight from the wood-fired oven. Open for lunch and dinner, the venue uses local ingredients to serve up items like citrus risotto and citrus and fried goat cheese salad with a blood orange dressing.
Circolo Pizza, AlJadidah district, in the Oasis square, daily 12.30pm to 11.30pm. @circolo.pizza
Entrecôte Café de Paris
View this post on Instagram
Popular Geneva-based eatery, Entrecôte Café de Paris, is known for serving up different cuts of steak in a special butter homemade sauce. The venue brings all the history from 1930 to the new branch in AlUla. The motto behind the fine-dining spot is, "Toujours Imitée, Jamais Egalée", meaning "Always Imitated, Never Equaled." Get grilling.
Entrecôte Café de Paris, AlUla Old Town, daily 4pm to 1am. @entrecote.sa
Harrat
Located in Banyan Tree AlUla, Harrat serves curated recipes prepared by local chefs. The menu features fresh ingredients sourced directly from AlUla's farms. Get ready to try out everything from seafood to Middle Eastern mezze, pasta, and fresh grills.
Harrat, Banyan Tree AlUla, daily 7am to 11am (breakfast), 12pm to 4pm (lunch), 6pm to midnight (dinner), 11am to 1am (lounge). @banyantree.alula
Maraya Social By Jason Atherton
View this post on Instagram
Grab your phones and make your way down to Maraya Social by Jason Atherton. Perched atop Maraya Concert Hall, the stunning 9,740 square metre all-mirror space, the cuisine served at the restaurant is inspired by AlUla, and the produce is sourced from local farms.
Maraya Social by Jason Atherton, Maraya, AlUla's premier concert hall, Sat to Tue 6pm to midnight. @marayasocial
Myazu
View this post on Instagram
Japanese cuisine in the heart of AlUla? Count us in. Myazu in AlUla has a super chic atmosphere, the restaurant serves sophisticated contemporary dishes made with traditional techniques and top-tier ingredients. Grab your chopsticks and enjoy smoky, sweet, spicy and vibrant flavours at Shaden Resort. You can enjoy performances by live DJs every Thursday and Friday night too.
Myazu AlUla, Shaden Resort, Sun to Tue 6pm to 11pm, Wed to Sat 6pm to 1am. @myazusaudi
Suhail Old Town
View this post on Instagram
A chic fine-dining Saudi concept which serves dishes made with ancient spices of the Arabian Peninsula. The restaurant serves traditional Saudi food with a modern twist. The Riyadh venue serves up items like hneini cheesecake and a camel (hashi) steakhouse.
Suhail Old Town, AlUla Old Town, daily 9am to 2am. @suhail_saudi
Tama
View this post on Instagram
Located in the eco-resort Habitas AlUla, Tama means "here and now" in Aramaic, the venue is all about being present and making new connections. The spot serves a fusion of global and Middle Eastern cuisines.
Tama, Habitas AlUla, daily 7am to noon (breakfast), noon to 5pm (lunch), 6pm to 12.30am (dinner). @habitasalula
Tawlet Fayza
After some traditional Arabic food in AlUla? Tawlet Fayza which translates to Fayza's Table is a cosy spot in AlUla AlJadidah. The story follows AlUla-born Fayza who returned to Saudi Arabia after moving to France and opened a restaurant serving dishes made with fresh ingredients. Dig in.
Tawlet Fayza, AlUla Oasis, daily 1pm to midnight. experiencealula.com
Images: Social
> Sign up for FREE to get exclusive updates that you are interested in