23 new muvi Cinemas to open in Saudi Arabia
Get ready for muvi time…

muvi Cinemas KSA, the first homegrown cinema brand in Saudi Arabia, will launch 23 new cineplexes across eight key regions in the Kingdom, offering 204 screens and 22,872 seats.
Within the next 12 months, the capital city will have nine new muvi Cinemas complexes, another seven in Jeddah, and two in Taif, Khobar, Khamis Mushait, and Al Kharj – all of which will feature the world's most cutting-edge cinema technologies.
Residents of Buraidah and Unayzah will also get to experience their first-ever muvi Cinemas. Despite the pandemic, muvi's bold expansion efforts will accommodate more than 35,000 moviegoers.
Among the newly announced locations are three standalone muvi Suites multiplexes – muvi Cinemas' premium, luxury experience – and a new cinema concept branded "muvi Boutique". Additionally, some of the selected multiplexes will feature more than 15 immersive Premium Large Format (PLF) screens to provide an ultimate experience for movie lovers.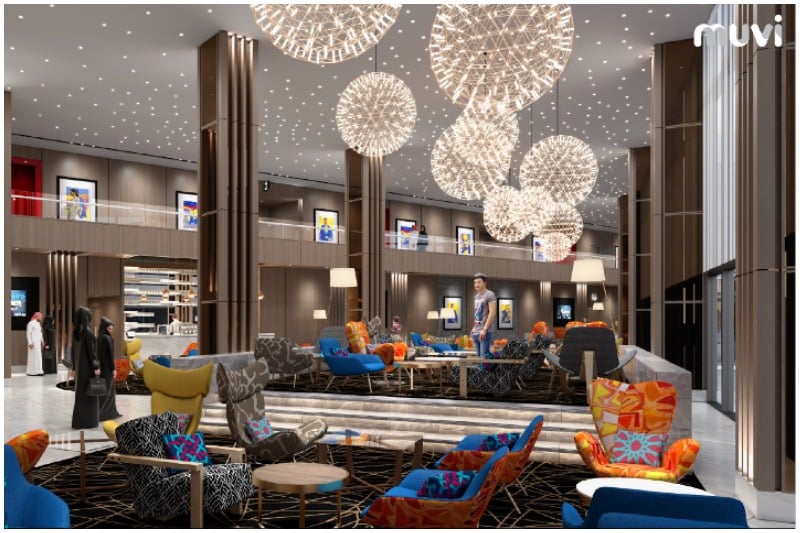 muvi's fast expansion plan across Saudi Arabia
muvi has also secured eight additional locations (currently under design phase) for opening in 2023 and 2024, putting the company on track to exceed 600 total screens by the end of 2024. This investment will generate more than 5,000 career opportunities for Saudi nationals.
"muvi is proud to play an outsized role in creating new, investment-worthy recreation opportunities in line with Vision 2030's goal of diversifying the Kingdom's economy," said muvi CEO Sultan Alhokair.
muvi's 2021 expansion plans follow a newfound strategic partnership with Telfaz11, a Riyadh-based digital-media studio. Telfaz11 develops and produces engaging Arabic-language content, primarily for MENA audiences, through a multichannel network that boasts almost 25 million subscribers.
muvi also forged a partnership last year with MENA film distributor Front Row Filmed Entertainment, forming a new company called Front Row Arabia. The collaboration will increase the distribution of Western, Arabic-language, and Japanese-anime content across the Kingdom.
muvi, which opened its first location in 2019 at the Mall of Arabia, in Jeddah, today owns and operates ten cinemas – with 103 screens – across Riyadh, Jeddah, Dammam, Dhahran, Hofuf and Jubail.
Visit: muvicinemas.com
Images: Supplied
> Sign up for FREE to get exclusive updates that you are interested in