What you need to know about the 2022 Saudi Tour
The international cycling event will take place in AlUla from February 1 to 5 over five stages…
A year after the pandemic cancelled the race in 2021, the Saudi Tour is back on the calendar for its second edition in February.
🤩 Discover the 3D route of the 2022 #SaudiTour! pic.twitter.com/AztYhRWrOA

— Saudi Tour طواف السعودية (@thesauditour) January 16, 2022
The tour, organised by the Ministry of Sports and the Saudi Cycling Federation, will be held from February 1 to 5.
This year's location will take riders on an incredible five-stage journey through the beautiful landscapes, wondrous heritage sites and challenging desert terrain of AlUla.
The track for the five stages
The route is expected to be more demanding than in 2020 due to a gradient climb towards the Skyviews of Harrat Uwayrid.
The first stage will be launched from Winter Park and is 198 kilometres long. The Saudi Tour's longest and most scenic route – made up of primarily flat course – brings riders right in front of the Unesco World Heritage Site, Hegra. This opening stage is dedicated to the fastest men in the peloton, and the first leader of the Saudi Tour will be a sprinter.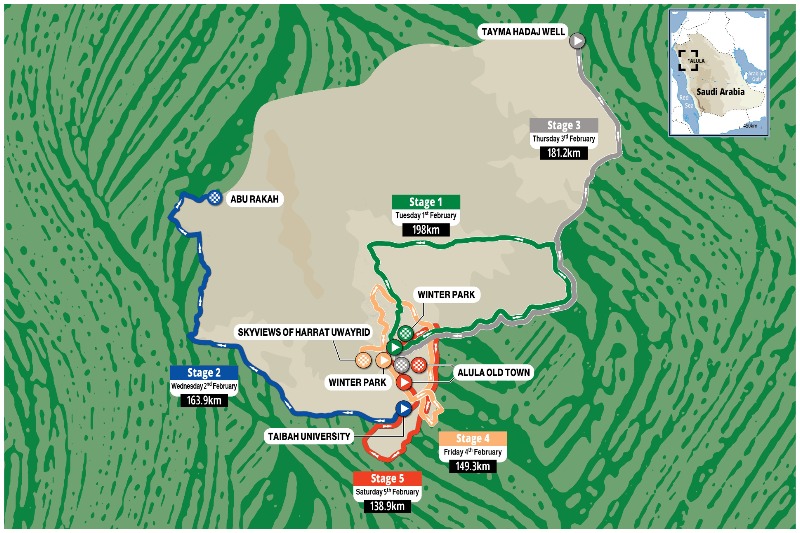 The second stage starts from Taibah University and reaches Abu Rakha with a distance of 163.9 kilometres. Punchers will love this uphill finish after a leg-breaking second stage on the Saudi Tour.
The third route starts from Tayma Hadaj Well, Tayma, one of the biggest wells of Saudi Arabia, to AlUla Old Town, covering 181.2 kilometres. Cyclists will end this stage in front of the castle, at the end of a one-kilometre-long straight line.
The fourth stage begins from Winter Park to Skyviews of Harrat Uwayrid and is 149.3 kilometres long. Riders can expect some dreadfully difficult kilometres just before the finish.
The race will conclude in the fifth stage, taking riders on a large circuit around AlUla Old Town with a distance of 138.9 kilometres.
A race full of stars
There are 16 international teams that are competing for a chance to win the prestigious title.
⭐A race full of stars! ⭐

✅ 8⃣ UCI WorldTeams

✅ 5⃣ UCI ProTeams

✅The 3⃣ best Asian Continental Teams

Here are the 16 teams that will take to the start of the #SaudiTour 2022! pic.twitter.com/X3OZgNMEgX

— Saudi Tour طواف السعودية (@thesauditour) January 16, 2022
Other events will take place alongside the Saudi Tour, including a mass-participation race (Saudi Tour Ride), a women's race (Saudi Tour Women Ride), a junior race organised by the Saudi Cycling Federation (Saudi Tour Challenge) and a dedicated race for children (Mini Kids Race, at every finishing area of the five stages).
Riyadh held the inaugural Saudi Tour in February 2020, when the German cyclist Phil Bauhaus from Bahrain-Victorious claimed the title.
2022 Saudi Tour, AlUla, Feb 1 to 5, starts at 7am. Register here for the side events.
Images: Saudi Tour
> Sign up for FREE to get exclusive updates that you are interested in