44 incredible restaurants opening in Riyadh in 2023
Riyadh's food scene is getting a slew of exciting new openings…
Riyadh's restaurant scene just keeps getting better. If you're looking for new spots to switch up where you dine in the Saudi Capital, we've got a complete guide of all the new openings to keep track of.
Here are all the incredible restaurants opening in Riyadh in 2023.
AB Steak by Chef Akira Back, Diplomatic Quarter
Steak lovers will enjoy this unique steak house combining American and Korean influences. Serving premium meat cuts that are dry-aged for 30 days in a dedicated on-premises chamber, AB Steak utilises a smokeless, open-grill tabletop cooking experience in a vibrant and social setting.
Akira Back, Diplomatic Quarter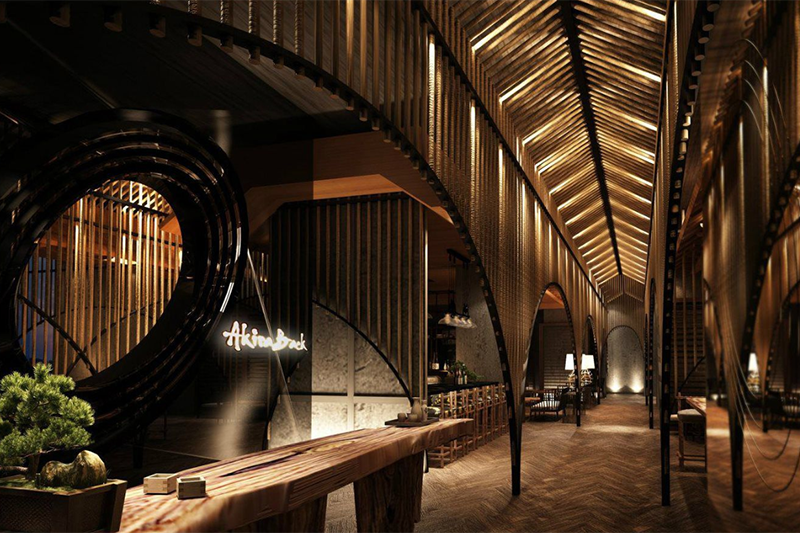 The Akira Back restaurant by award-winning Chef Akira Back showcases modern Japanese cuisine with Korean accents and culinary influences from around the world. Dishes like the umami hit of his signature AB tuna pizza or 'Show Me The Roll' of shrimp tempura, salmon belly aburi, spicy tuna, and chipotle mayo represent truly world-class cuisine from a culinary master.
Amazonico, KAFD
View this post on Instagram
Junglesque restaurant Amazonico is an exotic paradise filled with foliage and imagery of exotic animals that previously popped up in Riyadh in 2021. The food is based on Latin American cuisine and features a variety of tender steaks, fresh fish and delicious appetisers. It has restaurants already in Madrid, London and Dubai, so we can't wait to see what's to come at Amazonico in Riyadh when it opens in KAFD later this year.
B+F, Laysen Valley
View this post on Instagram
This vibrant restaurant concept from Kuwait (yes, they're the same group behind Burger Boutique) will focus on upscale, international cuisine with a unique dining experience. It is keeping its exact plans under wraps, but diners will be entertained by open flame cooking demonstrations, and artisan pizzas will be cooked in a wood-fired oven.
Bagatelle, Laysen Valley
A coveted French luxury brand with restaurants in Miami, Dubai and London, the long-awaited arrival of Bagatelle is very exciting for Riyadh. Bagatelle, known for its lively atmosphere, upbeat music, and delicious French-Mediterranean food, will undoubtedly be one of the best spots in Riyadh to spend with your friends and family when it opens next month in Laysen Valley. Expect a strong focus on fresh, clean flavours and ingredients as the centre of the concept, with French classics enlivened with innovative flavours and a lighter approach to dining. From seafood pasta to an array of truffle dishes, the menu will offer a range of options for everyone. The space at Bagatelle Riyadh will be designed by Bishop Design by Paul Bishop, an international multi-award-winning interior design firm based in Dubai and Miami.
Bianca, Via Riyadh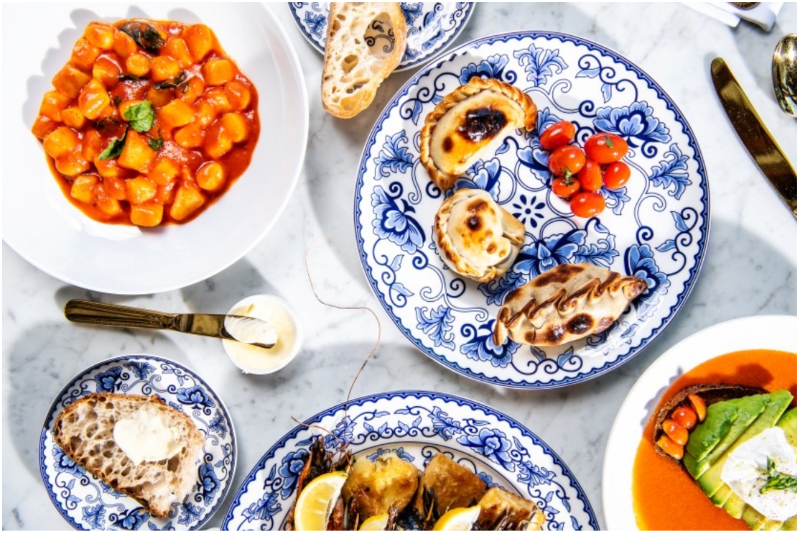 Famed LA hotspot Bianca is a restaurant and bakery offering a menu influenced by the owners' roots – Italian, Argentinean and French. Bianca serves breakfast, lunch, and dinner, complemented by a rotation of seasonal specials. Alluding to the restaurant's name, the foundation of Bianca's interiors is bright and airy with strong natural light. The aesthetic is a layered expression of the chefs' coastal roots and is inspired by Forte Dei Marmi in Tuscany, Italy. A visit to Bianca is as much about the cuisine as the lifestyle.
Carbone, Mansard Collection Riyadh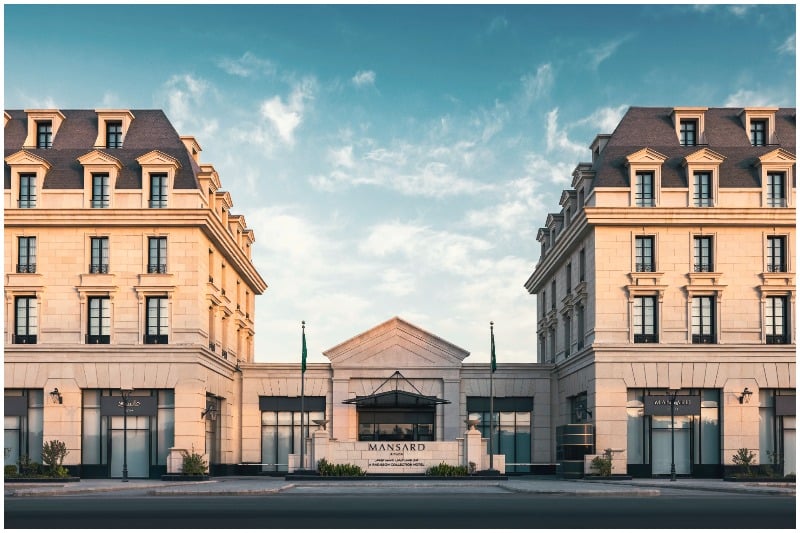 It's known as one of those restaurants in New York that's impossibly hard to get into, so we're already excited to sink our teeth into the laidback Italian dishes at Carbone Riyadh when the restaurant opens in the glamourous Mansard Collection Riyadh this year. A red-sauce joint made iconic by its celebrity clientele – that includes everyone from the Kardashians to Justin Bieber – one of the must-try dishes is the spicy rigatoni.
Cipriani Dolci, Diplomatic Quarter
View this post on Instagram
From Fundamental Hospitality, the Dubai-born hospitality brand behind upscale restaurants like Gaia, Shanghai Me and Scalini in Dubai will bring the relaxed cafe outpost of legendary Italian, Cipriani Dolci, to Riyadh in 2023. Located in the Diplomatic Quarter, Cipriani Dolci is instantly recognisable for the same aesthetic of the fine dining restaurant, complete with blue and white terrazzo patterned floor, high gloss oak tables and bespoke blue leather chairs. At Dolci, expect delicate pastries, delicious desserts and lighter Italian classics.
Chotto Matte
Those seeking a taste of the Japanese-Peruvian cuisine from Riyadh's first location of chain Chotto Matte won't have to wait much longer. Chotto Matte, which means "wait a minute" in Japanese, will soon be welcoming their first customers in the heart of KAFD. Expect to see bold street art on the walls and a myriad of authentic Nikkei dishes like the best-selling sashimi, shrimp gyoza, and lobster and wild prawn ceviche. The brand is also memorable for its diverse and vibrant atmosphere that suits all types for any occasion.
chi SPACCA, Via Riyadh
From LA to Via Riyadh comes chi SPACCA, a restaurant inspired by the flavours of Tuscany from award-winning chef and restauranteur Nancy Silverton. Italian for "he who cleaves" the elevated Italian dining experience promises to be a meat eater's heaven.
Cigar Lounge by ManuH, Via Riyadh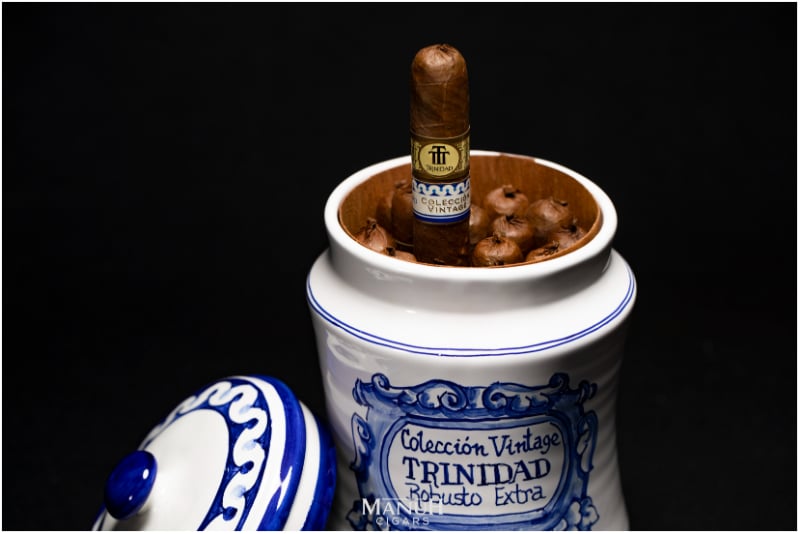 The latest addition to the ManuH Cigars portfolio, Cigar Lounge Riyadh is a fresh new cigar concept carefully curated by ManuH, where guests can explore the fascinating world of fine cigars in an exclusive members club setting. So expect some of the rarest and most excellent cigars from around the world. The Cigar Lounge Riyadh will have a team of dedicated and passionate cigar sommeliers and monthly masterclasses where guests can discover different cigars from the lounge's carefully curated collection. Guests will also have access to a large selection of accessories brought exclusively for the Cigar Lounge. It'll be paired with a light dining menu, featuring delectable dishes such as lobster and Wagyu beef sandwiches, caviar; dim sum; and an exclusive selection of tea and coffee.
Cova Il Ristorante, Bujairi Terrace
View this post on Instagram
Cova is one of Italy's oldest pasticcerias and an international destination, and it's set to be one of 20 dining options at Bujairi Terrace. Celebrated for its high-quality produce and unique interiors, the menu will offer diners a selection of Mediterranean mains and continental side dishes with daily chef specials and traditional Milanese options in an intimate fine dining setting.
pasticceriacova.com/en/stores/il-ristorante-bujairi-terrace
Dasha, The Esplanade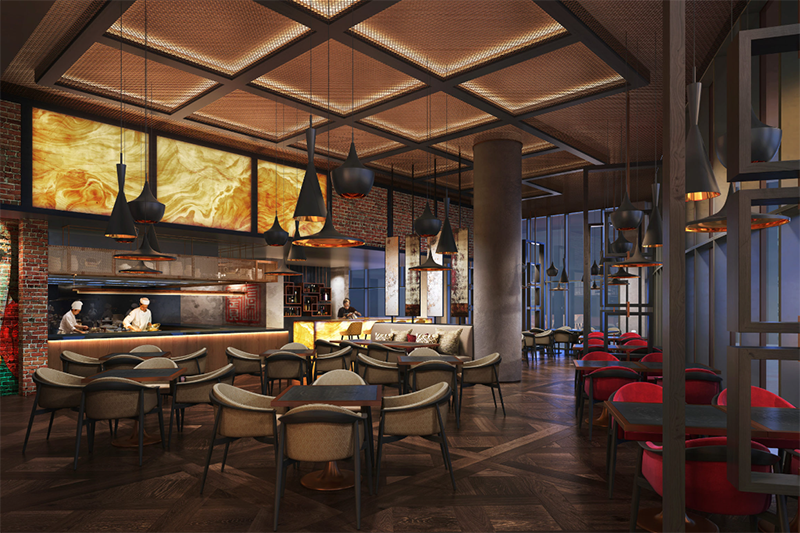 Not only will this upscale Chinese restaurant offer up inventive dishes that blend traditional techniques with modern flavours, but there will also be karaoke rooms. Yes, you read that right. Dasha is looking to invent the way guests experience karaoke with stylish private rooms, extravagant décor and flavourful Chinese cuisine to ensure you have the courage you need to get up on the mic. All the reasons to make Dasha your go-to spot when it opens in Riyadh in 2023.
Dosa, The Esplanade
An innovative Korean BBQ restaurant will present guests with an experience they will never forget – from unlimited menu options consisting of freshly prepared meats, seafood, and vegetables to refreshing and traditional Korean food.
El Camino, KAFD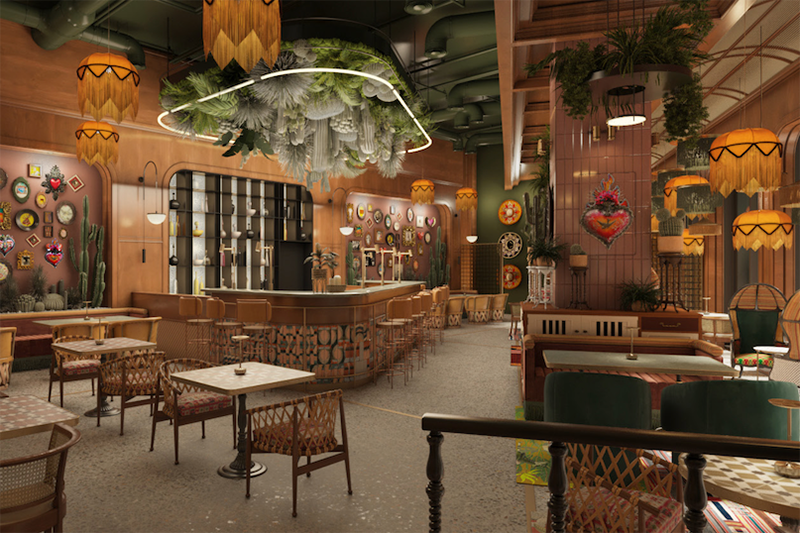 Casual Mexican restaurant El Camino is another new restaurant diners can soon expect to enjoy at KAFD. When it does open, expect authentic Mexican cuisine and exquisite dishes in an exceptional atmosphere.
ELLE Café, Via Riyadh
ELLE Café combines the art of healthy food with Parisian style in interesting designs and distinguished decoration elements, different according to each country and place, mixing the ELLE fashion magazine's DNA with local cultures that are perfectly matched. In each ELLE Café, all food is cooked with fresh and qualitative ingredients by female chefs and experts in their country. Furthermore, the French-inspired menu is adapted to local specificities in line with consumers' habits and according to the seasons' trends.
Ferdi, Via Riyadh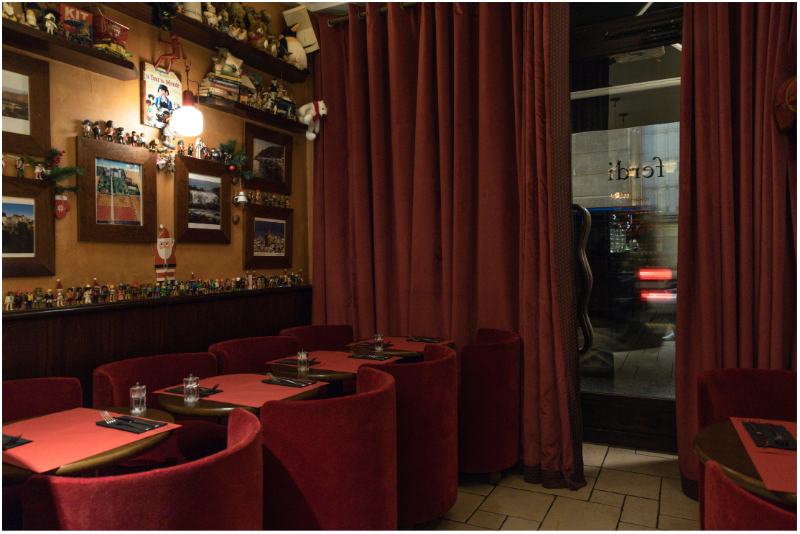 The Parisian celebrity hotspot's menu is a melting pot of favourites, made with love, packed with flavour, and presented in a friendly fashion, designed to be shared by the table. Ferdi Riyadh's aesthetic will mirror the flagship restaurant's signature eclectic décor featuring Ferdinand's old toys and memorabilia, a mix of velvet and wood furnishing with a Parisian accent, and a welcoming, intimate ambience. From the distinctive matte black signage and red and black colour palette right down to the lighting, anyone who has experienced Ferdi in Paris will find themselves right at home at the restaurant's Riyadh outpost.
Flamingo Room by Tashas, Bujairi Terrace
View this post on Instagram
Combining elegance and sophistication with a playful personality, evident by way of bronze meerkats and monkeys throughout, Flamingo Room by tashas is a testament to Africa's refined side. Founded by restauranteur Natasha Sideris, the Dubai restaurant is one of the most glamorous restaurants in the city – found at the lagoon side in Jumeirah Al Naseem. In Saudi Arabia, the same chic interiors can be expected at the Bujairi Terrace restaurant.
Gymkhana, Via Riyadh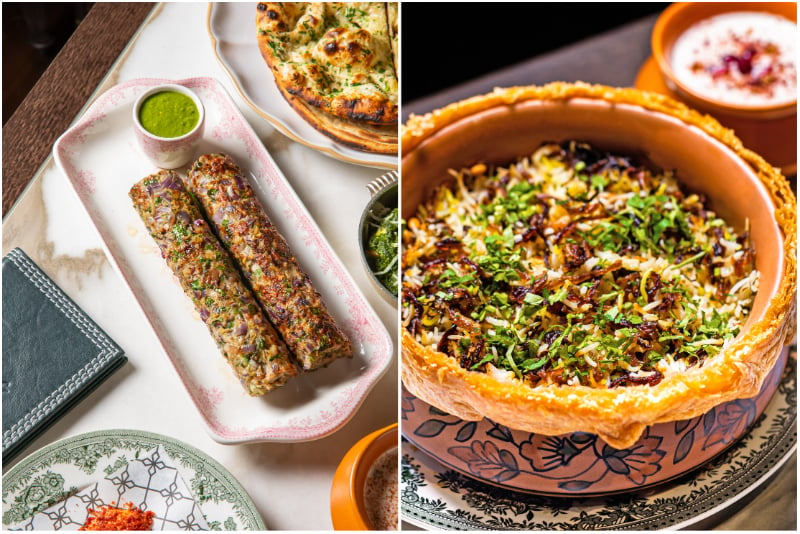 The Michelin-starred restaurant is set to travel outside London for the first time as Gymkhana opens its doors in Riyadh in 2023 at the exciting new Via Riyadh development. Guests to Gymkhana Saudi can expect the same level of flavour and experience as those in Mayfair. The carefully curated menu brings to life flavours from across India, offering a modern interpretation of renowned classics. All the restaurant's signature dishes will make the trip to Riyadh, like Chettinad Duck Dosa with Coconut Chutney, Kid Goat Methi Keema with Salli and Pao, Wild Muntjac Biryani and Duck Egg Langoustine Bhurji with Malabar Paratha.
Joan's on Third, Via Riyadh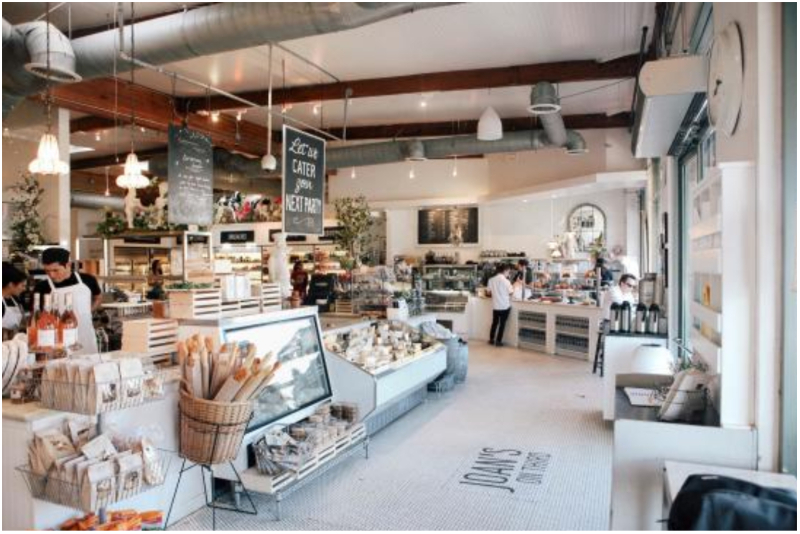 LA's hottest speciality food market, Joan's on Third, is the ideal spot for breakfast, lunch or dinner. Marking the brand's first international move, the Riyadh outlet will reflect the LA outpost's most distinctive features, including the neighbourhood-friendly atmosphere with communal tables and casual, charming decor. A hip gathering spot, Joan's on Third Riyadh will feature the original rustic farm shop design, with a speciality food marketplace and an abundance of hand-packed products available to grab and go – from a freshly prepared beverage menu comprising a variety of bottled fruit juices and ground coffee, warm and comforting pastries for the ultimate bakery and café experience; to an extensive selection of artisan cheeses and deli counter.
Jones the Grocer, KAFD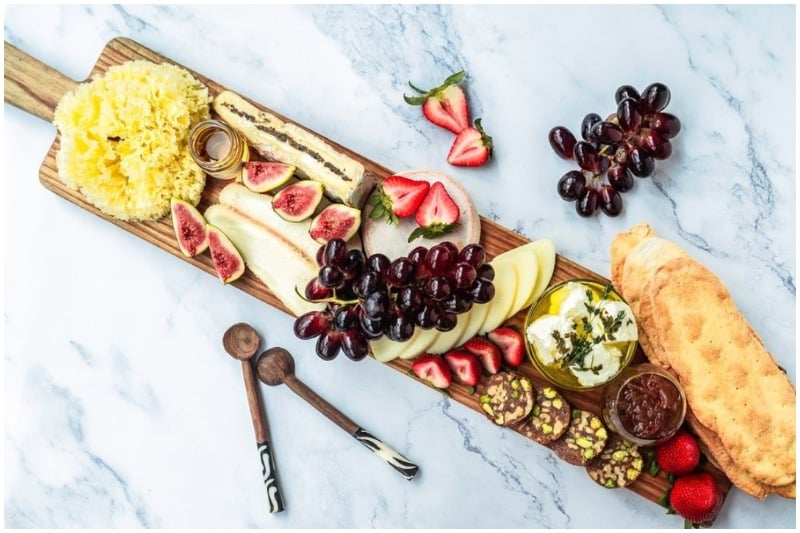 The popular Australian cafe is known for its fresh produce, hearty breakfasts, and healthy, freshly pressed juices. It's already open at Ramla Terraza, but we're hoping the second outpost in KAFD feature a retail section showcasing dried and ambient products such as jams, chutneys, mustards, sauces, cereals, and chilled items like smoked salmon and charcuterie.
L'Ami Davé, Mansard Collection Riyadh
Completing the impressive array of restaurants at the European-inspired Mansard Collection Riyadh will be a dazzling new dining concept that pays homage to Paris' legendary restaurants. An ode to the old world glamour of the French capital, there will be meticulous attention to detail in the design, the service and the menu, which will celebrate the highest quality ingredients. Expect to dine on dishes like the classic escargots, foie gras, and many of France's famed potato preparations.
L'Atelier de Joel Robuchon, TBC
Enjoy the pleasures of dining at the counter while you watch the chefs preparing your food in the open kitchen before you. Besides the course menus, there will be an extensive range of a la carte menu items, allowing you to enjoy Robuchon's modern French cuisine by combining these small dishes freely according to your feeling on that particular day.
La Cantine du Faubourg, TBC
Rikas Hospitality – the group behind La Cantine, Lana Lusa, Twiggy, Mimi Kakushi and several other award-winning restaurants in Dubai – will bring their signature restaurant La Cantine du Faubourg to Saudi Arabia. It is described as a Parisian rendezvous of art, music, food, and the embodiment of the chic French lifestyle, which has entertained diners in Dubai since 2015.
La Serre, KAFD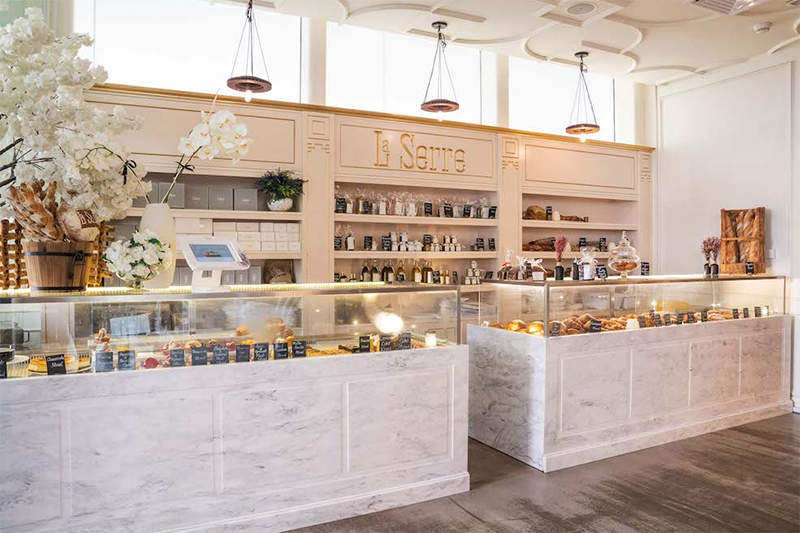 Dubai-born La Serre entertained diners for a decade before closing its doors. It's now found in Abu Dhabi, and this year, the French restaurant and Boulangerie will head to the Kingdom's KAFD area. The 500-seater restaurant will feature indoor and outdoor terrace seating, incorporating its popular Boulangerie, viennoiserie and pastries, as well as its finer bistro elements.
Les Deux Magots, Via Riyadh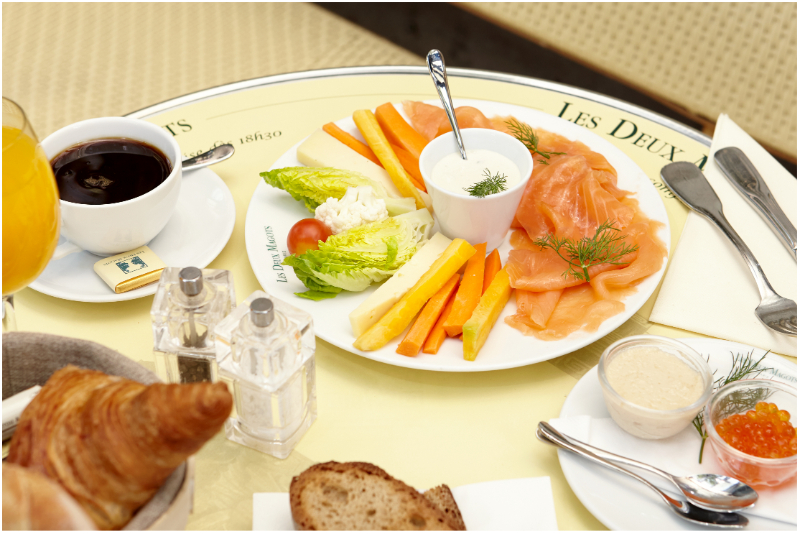 A Parisian classic, Les Deux Magots is one of the oldest cafés in Paris, where art, fashion, literature, and politics come together to transport guests to a uniquely charming experience. With different menus for different mealtimes of the day, Les Deux Magots aims to deliver the finest French flavour to its guests. The smooth coffee blends, silky traditional hot chocolate, freshly baked viennoiseries, fluffy omelettes, juicy steak with crispy fries, and scrumptious club sandwiches are some of the favourites from the menu.
Madeo Ristorante, Via Riyadh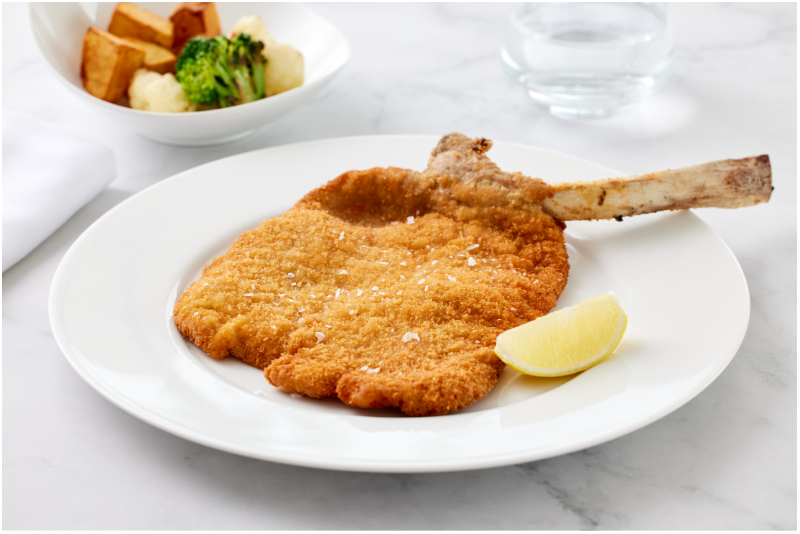 Los Angeles celebrity hotspot, Madeo Ristorante, will launch two restaurants in 2023, one in Jeddah and one in Riyadh. Guests will be greeted with "Benvenuti al Madeo!" as soon as they enter the restaurant, transporting them on a multi-sensorial voyage to fascinating Tuscany. The menu will feature traditional Tuscan dishes, pairing the freshest local ingredients with premium European elements to culminate in an exceptional flavour combination. Madeo draws its inspiration from timeless comfort over contemporary trends. The new venues in Riyadh and Jeddah will both feature a warm colour palette with brass and wood accents, large, curved booths, and a semi-open kitchen.
coolinc.com.sa/experiences/madeo-riyadh/
Mayabay, Prince Turki Ibn Abdulaziz Al Awwal Road
Opening this summer is Thai and Japanese fusion restaurant by way of Monaco, Mayabay. Already a popular fine dining restaurant in Dubai, when it opens in Riyadh's Prince Turki Ibn Abdulaziz Al Awwal Road., the elegant restaurant will boast 750 square metres of space with an expansive 180 square metre outdoor terrace. We hope the Riyadh restaurant includes some of MayaBay's signature dishes, such as the Maya crispy duck, pad thai, MayaBay sashimi, and black cod with miso and honey.
Mimi Kakushi, TBC
Another Rikas Hospitality concept making its way from Dubai to Saudi Arabia is Mimi Kakushi, an upscale Japanese restaurant. Transporting guests to the glamorous world of 1920s Osaka, Mimi Kakushi's glamorous interiors offer an east-meets-west aesthetic, with bold artwork and cosy corners.
Monopoly, KAFD
View this post on Instagram
Some of you may already be familiar with this outdoor restaurant at Oud Square in the Diplomatic Quarter. Specialising in pizza and fusion food, Monopoly is opening a new branch in KAFD. The opening date is not yet clear. However, signs have been installed at the shop front, and work has been going on inside.
Mr Chow, KAFD
The first Mr Chow opened in London on Valentine's Day 1968, with top chefs serving authentic Beijing cuisine and creative original recipes, such as chicken satay and Ma mignon. For half a century, diners have enjoyed watching the handmade noodle show at all of its locations, and on the menu is one of the best-prepared Beijing ducks. We can't wait.
Nozomi, Century Corner
View this post on Instagram
The moment that we've been waiting for… Nozomi is finally opening its new branch in Riyadh. Those familiar with this contemporary Japanese restaurant know that the menu here is all about elevated Japanese cuisine with European flair. Diners can look forward to its signature dishes, including the famed black cod miso – a classic Japanese dish that features a delicate and buttery cod fillet generously glazed in miso sauce.
Over Under, Via Riyadh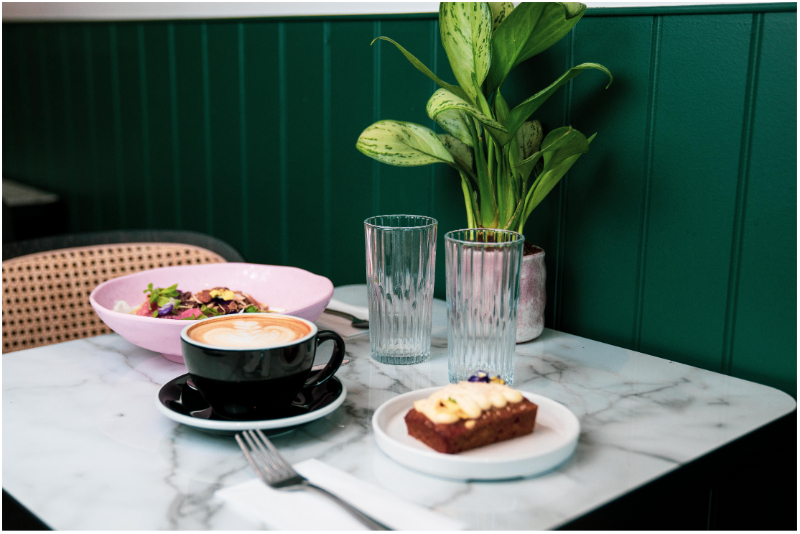 Popular London-born café-to-bar concept Over Under is unlike other coffee shops. The experience continues after hours, as the shop 'flips' at 5pm, transforming from a café into an upbeat yet low-key mocktail bar – Over by Day, Under by Night. The Riyadh venue will carry the brand's signature minimalistic, approachable menu, comprising dishes such as Spiced Mascarpone & Berry Toast; The Original Over Under Granola Bowl; Reuben Toastie; and Smoked Chicken Wrap, complemented by a wide range of coffee drinks.
Raoul's, Via Riyadh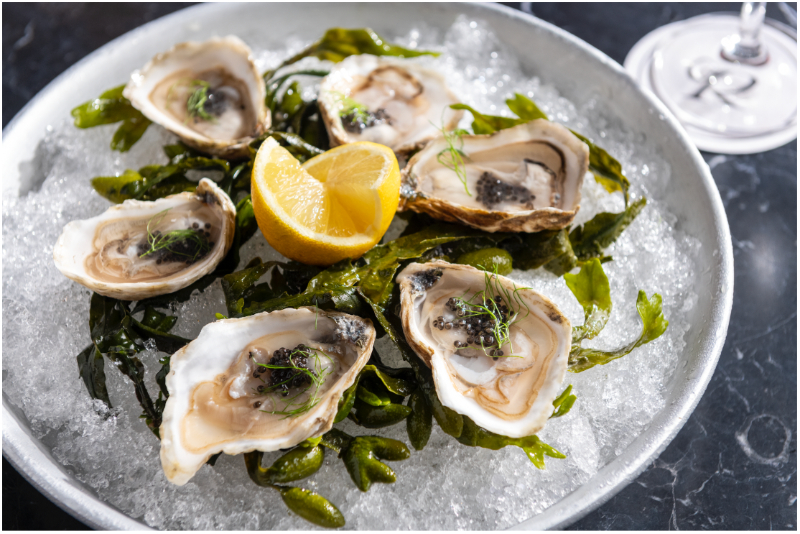 New York City's famed French bistro is set to bring a quintessential Soho dining experience to Via Riyadh this year. The restaurant's carefully curated menu cements Raoul's authenticity, featuring cherry-picked favourites and seasonal classics, from Foie Gras; Steak au Poivre with Frites and Raoul's dressing; and Organic Classic-Style Whole Roast Chicken to the Tarte Tartin; and Oyster Tower. In addition, the new outlet in Riyadh will feature a traditional interior design, reminiscent of the bustling atmosphere of Soho of the '70s and pay homage to the extraordinary and bygone era that first gave rise to Raoul's in Soho. With a dark colour palette, intimate spaces and red velvet accents, the aesthetic of Raoul's is that of a classical French bistro.
Robata, The Canopy by Oud
MFC Saudi are the brains bringing some of the world's biggest brands to Riyadh, including Billionaire, Coya, Beefbar and Signor Sassi. In 2023, they plan to add to their impressive roster of restaurants with the opening of Robata. Described as a trendy restaurant that presents the vibrant Tokyo energy with a unique twist, expect Instagrammable interiors and impressive dishes when this restaurant opens in Riyadh in 2023.
RÜYA, Midtown
A favourite amongst our What's On team in Dubai, swanky restaurant RÜYA is making its way to Riyadh in 2023. The restaurant will open soon alongside an array of the city's finest eateries including Beefbar, Roka and Coya, in Midtown. Enjoy authentic, contemporary Anatolian cuisine – that's Turkish to you and me – with a contemporary twist in a lively, relaxed setting. So, get ready to embark on a culinary journey through the food regions of Turkey with mezes from Marmara, Pides from the Black Sea region, olives from the Aegean Sea and kebabs from Southeastern Anatolia.
Sass Cafe, TBC
Born in 1993 and named after its owner "Sassa", Sass Café is one of the most historical venues in Monaco where you can dine and dance all night long. This popular and legendary spot, known for its elegant décor, heads to Riyadh so gastronomes can enjoy its delicious menu featuring Mediterranean and Italian fare accompanied by performers and live music.
Scott's, Via Riyadh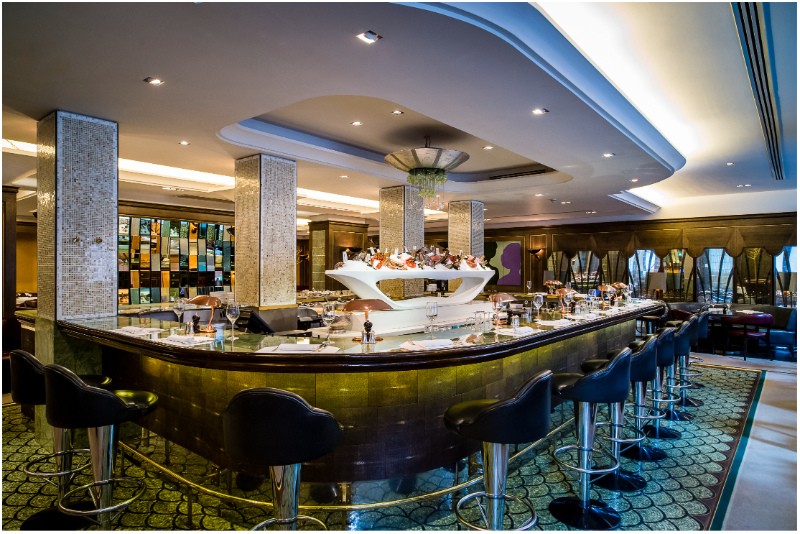 Mayfair's seafood institution and celebrity favourite offers the finest traditional fish and seafood dishes, alongside various meat and seasonal game options. Oysters, served at Scott's elegant oyster bar, are a house speciality. Scott's Riyadh outpost will pay homage to the Mayfair flagship restaurant's aesthetic with a sophisticated yet warm '40s elegance. The timber-panelled dining room with burgundy leather banquettes and dining chairs creates an impressive atmosphere, featuring silver leaf mirrored screens, a marble top with a stingray fronted bar, and walls adorned with artwork from some of today's most celebrated British artists.
Sexy Fish, Via Riyadh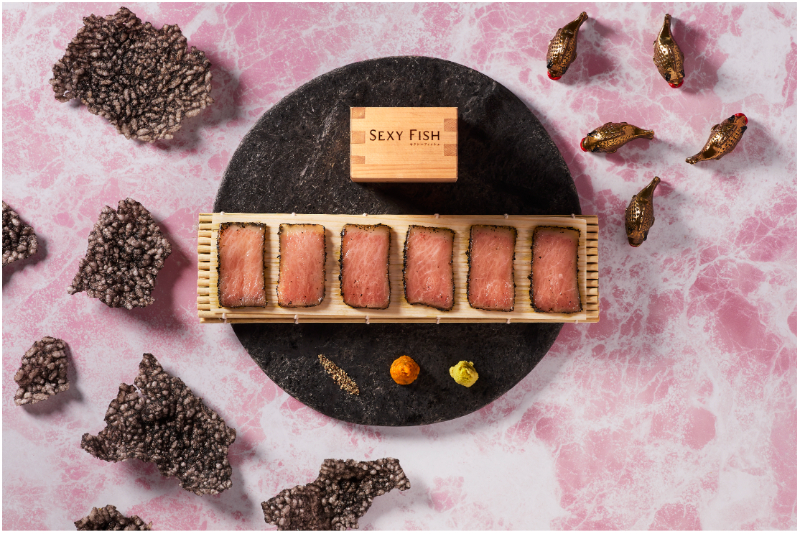 Another Mayfair export, Sexy Fish serves a diverse menu of Japanese-inspired sushi, sashimi, seafood, fish, and meat cooked on a Robata grill inspired by the seas of Asia, with a focus on Japan. The Riyadh outpost will retain the signature dishes of the original Sexy Fish, such as duck salad; vegetarian sushi; smoked tuna belly; black cod and king crab, with the addition of new dishes and bold, seasonally inspired flavours. Guests can also expect brilliant entertainment by the restaurant's resident DJs from lunch to dinner through the later hours.
Spago by Wolfgang Puck, Via Riyadh
Spago is the flagship restaurant of the Wolfgang Puck Fine Dining Group, and it's one of the 17 restaurants coming to Via Riyadh. Here, it offers an imaginative and seasonal menu of Californian cuisine with global accents highlighting the freshest and healthiest ingredients in a sophisticated and inviting atmosphere.
Sushisamba, KAFD
View this post on Instagram
Among the retail, hotel and restaurant plans for Riyadh's landmark KAFD development are a slew of new restaurants, including global concept, SushiSamba. With outlets already in Miami, Las Vegas, London, Dubai and Doha, the restaurant blends Japanese, Brazilian, and Peruvian cuisines. Dishes on the menus in other cities include wagyu gyoza, samba salad, vegetable tempura, crispy lobster taquitos, tiradito, robata grills, and of course, plenty of sushi.
WAGYUMAFIA, Via Riyadh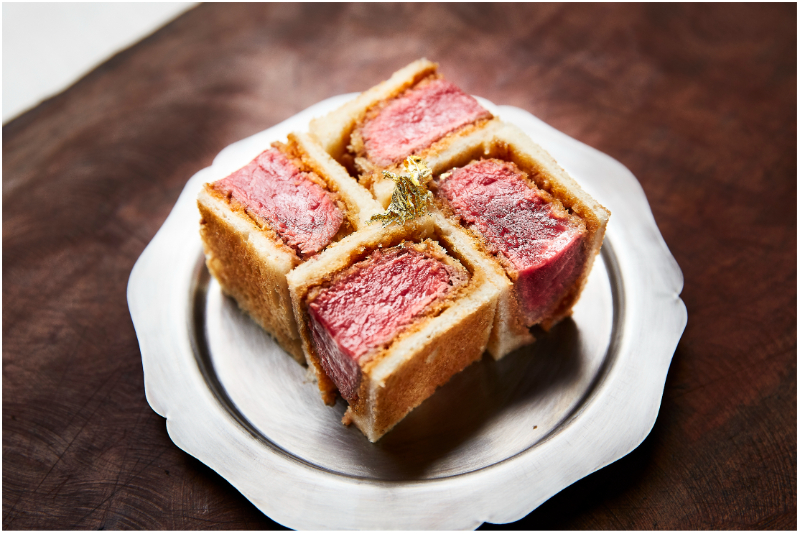 Founded by self-taught chef-turned-wagyu expert Hisato Hamada and entrepreneur Takafumi Horie, WAGYUMAFIA is an exclusive dining concept with special members-only offerings for wagyu gourmands. Its Riyadh venue marks the brand's maiden foray into the region. Taking signature elements from its Tokyo restaurants, WAGYUMAFIA Riyadh offers an omakase menu with signature dishes, as well as original creations available only in Riyadh. Highlight menu items include WAGYUMAFIA's signature Chateaubriand Cutlet Sandwich, Kobe Beef Bento Box; Tricolor Sushi; and more.
Yakinikumafia, Via Riyadh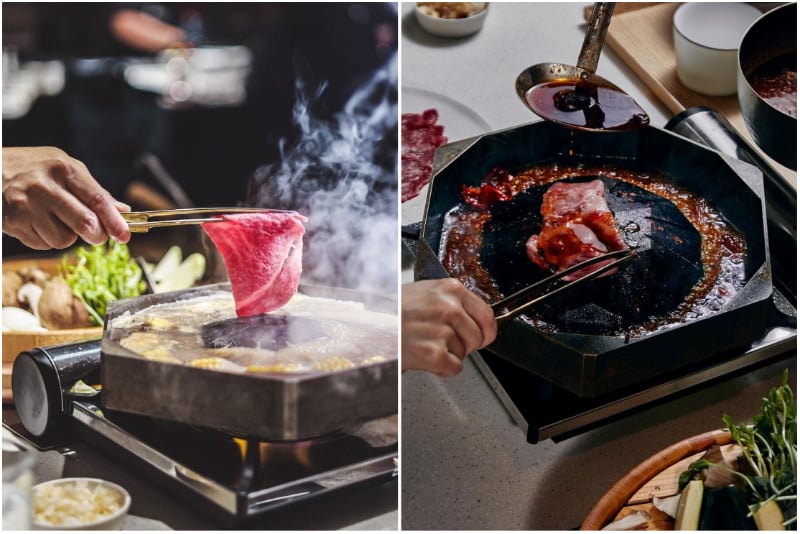 Also the brainchild of WAGYUMAFIA's founder Chef Hisato Hamada, Yakinikumafia is a contemporary dining spot that celebrates the traditional Japanese technique of grilling hearty delectable meat. From their delicious assortment of wagyu cuts, refreshing cocktails, and delightful deserts to an immersive omakase experience, the dining destination welcomes its guests to fathom the unique flavours. The show stealer is the rare cut wagyu paired with signature wagyu bone broth, koshikari rice, daikon with ponzu, pickled cucumbers, and house original big eye BBQ sauce, prepared on a state-of-the-art smokeless Japanese yakiniku grill.
Zuma, TBC
View this post on Instagram
Following on from the arrival of sister restaurant Roka in 2021, Zuma will open a permanent restaurant in Riyadh in 2023. Joining Rainer Becker's Zuma empire of 17 restaurants around the globe, Zuma Riyadh's as of yet undisclosed location will serve up signature dishes such as marinated black cod, sliced yellowtail and robata skewers.
> Sign up for FREE to get exclusive updates that you are interested in