5 reasons to spend Eid al-Fitr at Habitas AlUla
A whole new world awaits the intrepid explorer…
This Eid al-Fitr holiday, you might just want to swap out the hustle and bustle of a busy city for a tranquil setting to restore your mind, body and soul.
And if you are looking for the ultimate holistic experience somewhere close to home, here's why you should fly out to AlUla and spend Eid al-Fitr at Habitas.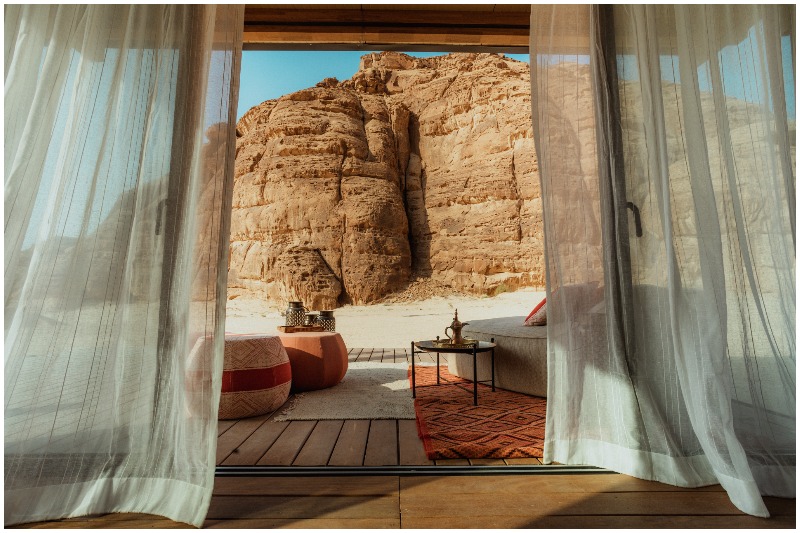 1. AlUla's desert landscape is nothing like you've ever seen
From its lush oasis valleys to its magnificent sandstone mountains, the AlUla region presents one of the world's most beautiful and unique landscapes. You'll see sand-drifted canyons, red-rock cliff faces, and distinctive outcrops and rock formations surrounded by seas of desert sand deposits. This is also where Hegra, a Unesco World Heritage Site, where some 100 tombs with elaborate facades cut from the sandstone outcrops surround this ancient walled city, is located.
2. Stay right in the heart of one of Saudi Arabia's most picturesque destinations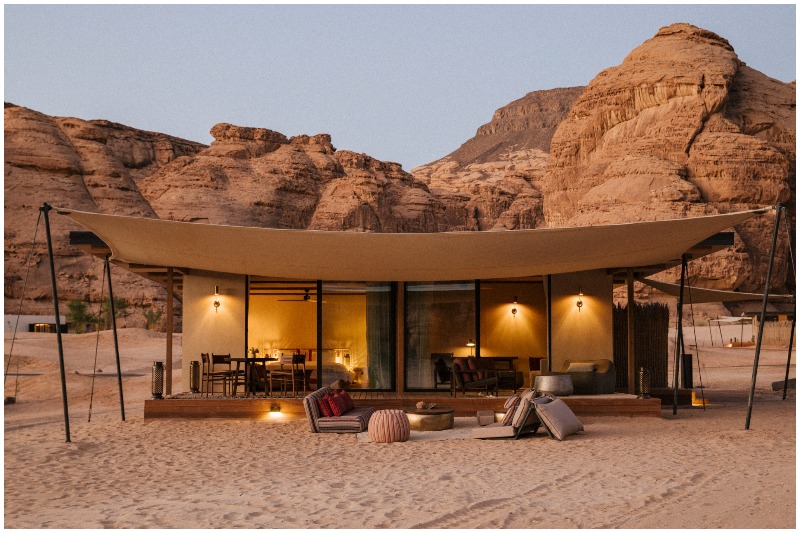 Step into Habitas AlUla, a luxurious resort renowned for its immersive experience where nature inspires creative expression, human connection, and the pursuit of adventure. Set amid stunning sandstone cliffs in the desert canyons of the Ashar Valley, the sustainably designed property offers a relaxing retreat from city life. With 96 guest rooms, Habitas AlUla spans three tiers: premium Celestial Villas, Alcove Villas and Canyon Villas, as well as the wellness and fitness centres, restaurant and swimming pool. Bathed in local rituals and traditions, Habitas AlUla is an oasis of calm and tranquillity in the rugged desert.
Eid Escape Package: Habitas AlUla, from SAR3,500 per night, including local taxes, breakfast, and lunch. Available from April 28 to May 6, 2022.
3. Get to choose your own adventure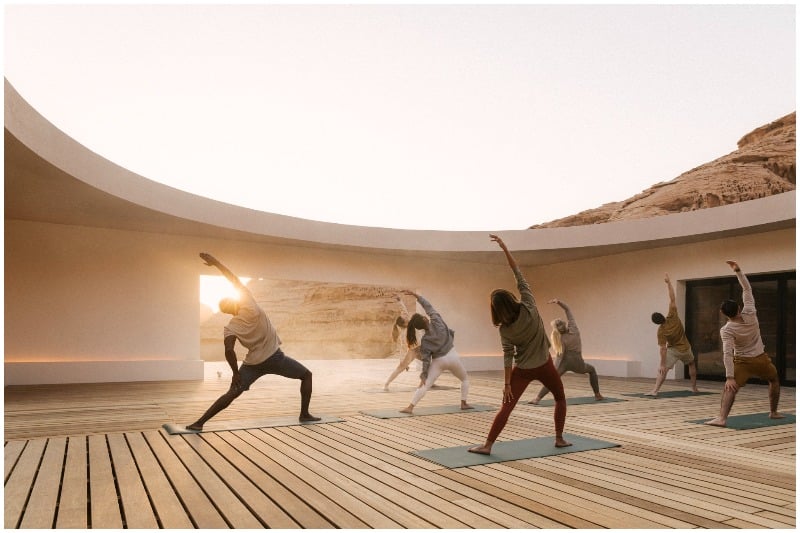 Habitas AlUla offers a true off-the-radar destination, with a mix of culture, wellness and adventure weaved into its programs and initiatives. Connect with nature and explore your adventurous side by doing some outdoor activities, such as mountain climbing, canyon trekking, desert buggy riding, camel riding, and, of course, stargazing.
For arts and culture enthusiasts, the resort also has programs that provide tours around the famous landmarks in AlUla, including historical sites such as Hegra and the old town.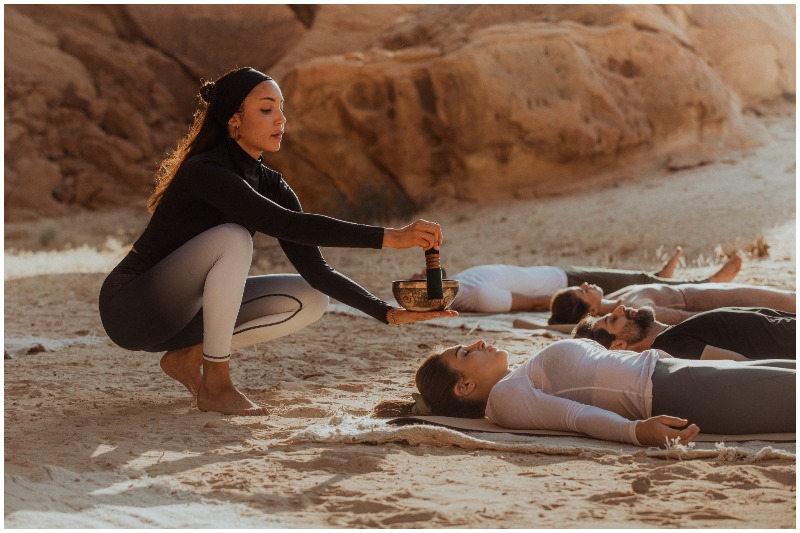 However, those who would like to take advantage of the distinct sense of calm and tranquillity will welcome the extensive wellness program at Thuraya Wellness. This establishment offers a spacious lounge consisting of an alchemy bar, spa treatment rooms, a fitness centre, an outdoor wellness agora, and a yoga studio. Plus, in celebration of Eid, guests will be gifted a complimentary 15-minute treatment for any 60-minute spa treatment booked.
4. Escape to a luxury glamping spot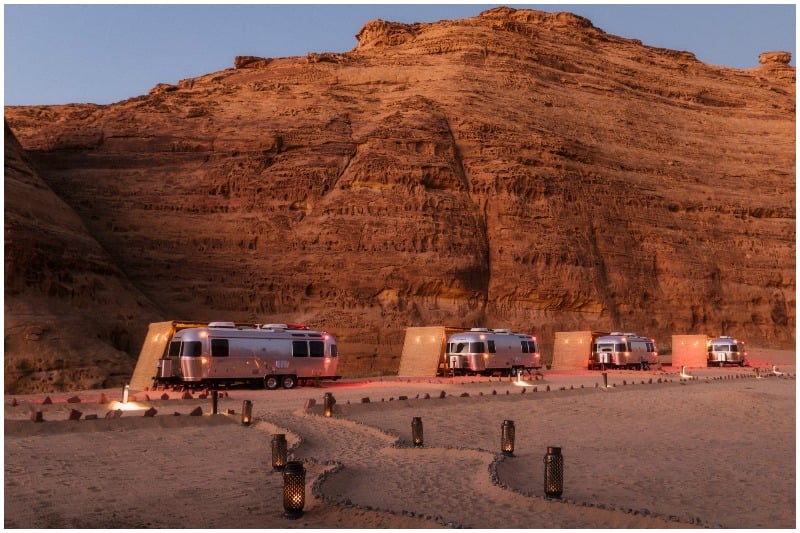 Habitas AlUla's sister property, Caravan by Habitas, is located within a few minutes' drive, and welcomes visitors to adventure, explore and play in a fun-filled new resort destination. Accommodation here is in the form of 22 retro Airstreams tucked into the AlUla valley. The trailers have been converted to modern hotel rooms and come with scenic views and private decks. Caravan by Habitas is unified by a central gathering tent that encourages guests to intermingle and connect. This Eid al-Fitr, celebrate and connect with your friends and loved ones with the Eid & Play package. Its daily activities are designed to encourage play and bring out your curious inner child. The package also includes daily two-course breakfast and your choice of daily lunch or dinner to fuel you for adventure.
Eid & Play Package: Caravan by Habitas, From SAR1,350 per night, including local taxes, breakfast, and lunch. Available from April 28 to May 6, 2022.
5. A relaxing and reflective experience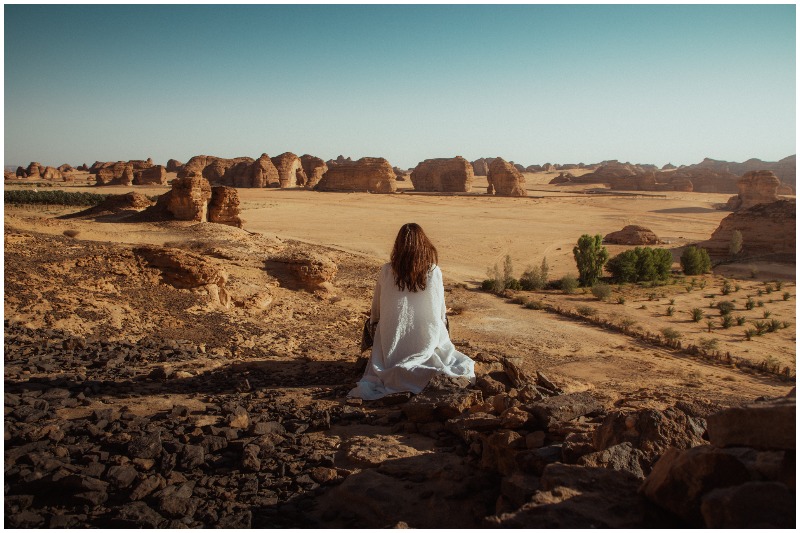 The allure of the desert, no endless Teams calls, and just you and the people around you. Indeed, Habitas welcomes and revitalises; this is where you venture to seek out spectacular vistas and remote stillness. You can meditate about your life as you walk through the dunes and let the desert wind blow your hair and your mind empty. Or experience the rugged landscape on horseback by day, then retire at day's end with a rose gold sunset. So, whether you want to break out of a rut or just looking for some downtime to relax in a tranquil setting, there is no shortage of memorable experiences to be had at Habitas this Eid al-Fitr for an awe-inspiring stay.
Images: Provided
> Sign up for FREE to get exclusive updates that you are interested in