12 brilliant business lunch deals in Riyadh
Book in a power lunch…
Business lunch is a ritual no corporate world can do without. Whether it's to welcome a new teammate, host a prospective client, or entertain an out-of-town associate, these business lunches will have you covered.
Here's where you can get the best business lunch deals in Riyadh for your next work meeting.
Annabella
View this post on Instagram
For a slice of Italy, check out Annabella at Levels Mall. It serves up hearty Italian fare, including a variety of classic dishes such as risotto, pasta, along with a slew of pizzas. They've got affordable three-course lunch sets starting from SAR85. There will be salad to start, followed by mains that allow you to choose between pasta and lasagna. For an additional SAR10, you'll get a choice of pizza, grilled chicken or grilled salmon for mains. Each lunch set also comes with sorbet and a soft drink. A great deal.
Annabella Ristorante Italiano, noon to 1.30am, Levels Mall, 8089 Northern Ring Rd, Almasiaf, Riyadh 12467. @annabellaksa
Black Tap
View this post on Instagram
Following the successful launch of its opening in KAFD, Black Tap diversifies its offering by introducing a business lunch for just SAR89. Diners can tuck into their choice of the All-American Burger, Falafel Burger, or the Crispy Chicken Sandwich. Each lunch set also comes with your choice of Idaho fries or the house salad and soft drinks.
Black Tap, KAFD, Riyadh 11564, Business Lunch SAR89 per person, Sun to Thurs 12.30pm to 4pm. Tel: 9200 24304. @blacktapksa
Encore
View this post on Instagram
Encore is an elegant all-day dining restaurant right in the heart of Riyadh's Diplomatic Quarter. Located within Core Social Wellness Club, the menu's inspiration at Encore is described as Eurasian cuisine with a Mediterranean influence. The business lunch menu is priced from SAR150, and you can choose between the two or three-course lunch set, which comes with mains like beef ragout rigatoni pasta or grilled seabass.
Encore Restaurant, Core Social Wellness Club, Diplomatic Quarter, Al Safarat, Riyadh 12512. Tel: 050 801 9750. @encorerestaurants
Goji Kitchen
View this post on Instagram
If you're looking for an intimate space where you can talk shop, Goji Kitchen at Marriott Riyadh Diplomatic Quarter is a good bet. It offers a warm, welcoming vibe and some seriously good international cuisine. The business lunch menu gives you three courses, and it includes dishes like smoked salmon, vegetables minestrone, kofta kebab sandwich and the cheese tortellini.
Business Lunch at Goji Kitchen, Sun to Thurs 12.30pm to 3.30pm, Marriott Riyadh Diplomatic Quarter Hotel, Abdullah Al Sahmi Street, Riyadh 11464. SAR99 per person. Tel: 059 159 1728. @marriottriyadhdq
Il Baretto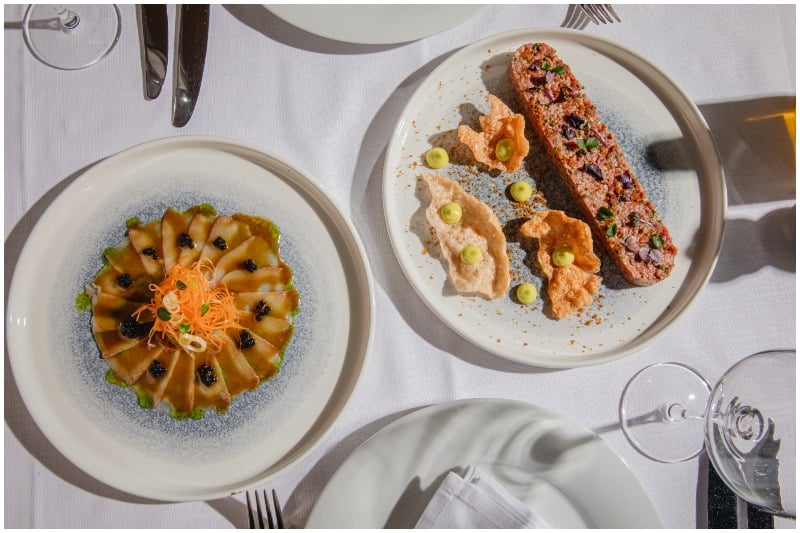 No time for a leisurely lunch? Head to Il Baretto for a speedy lunch serving authentic Italian cuisine. You can choose two courses from a comprehensive range of starters, pasta, risottos and mains. Plus, it's all served within 45 minutes to cater to those on the go. The business lunch menu changes weekly, so you can keep returning for more.
Il Baretto, King Abdullah Financial District, Al Malqa, Riyadh 13521. Il Baretto's Business Lunch, SAR150 per person for two courses without drinks, Sun to Thurs 12.30pm to 4pm. Tel: 9200 12508. @ilbarettosa
Le Maschou
View this post on Instagram
Le Maschou fine dining restaurant with its intimate decor inspired by the Medieval times is certainly conducive to a high-flying business lunch. Its superior quality homestyle French fare, cooked using the classic wooden fire, offers much to peck over, and should you opt to take lunch on the restaurant's verdant terrace, we have a feeling your client will be thanking you many times over even before the dessert arrives.
Le Maschou Restaurant, Diplomatic Quarter, Tayma St, Al Safarat, Riyadh 12513. Business Lunch Four-Course Set Menu, Sun to Wed 2.30pm to 5.30pm. Price starts from SAR290 per person. Tel: 9200 13005. @lemaschou_sa
Los Bandidos
View this post on Instagram
This upscale restaurant from Puerto Banús offers a three-course lunch daily from 1pm to 6pm and is worth checking out. For the proce tag of SAR139 per person, diners can take their pick from goat cheese salad, the soup of the day, lamb chops, mushroom risotto, or veal fillet with sweet wine sauce. There's also apple tart for dessert.
Los Bandidos, Midtown Complex, Prince Muhammad Ibn Abd Al Aziz, Prince Andulaziz Ibn Musaid Ibn Jalawi St, Riyadh. Lunch menu is served daily from 1pm to 6pm, SAR139 per person. Tel: 9200 16933. @losbandidos_ksa
OKKU
View this post on Instagram
If your business associate enjoys Japanese, check out the Tezukuri menu at OKKU. For SAR163, you can get the Sakura set, which includes a miso soup, garden and wafu potato salad, one classic maki roll, one bento selection, and a choice of ice cream or sorbet. To upgrade your meal to OKKU's signature maki roll and signature dessert instead, just add SAR44 for the Ran set. The classic maki roll selection includes Salmon and Avocado, California and Aki Maki, while the OKKU signature maki roll selection includes Dynamite Prawn, Spicy Salmon Maki, and Crispy California. For the bento selection, you'll have to pick from chicken katsu, gyu don, prawn and vegetable tempura, and more.
OKKU, Tahlia Street, Al Olaya, Riyadh 12212, Tezukuri lunch menu, Available from Sun to Thurs 1pm to 6pm. Sakura Set SAR163, Ran Set SAR207 per person. @okkuriyadh
Pattis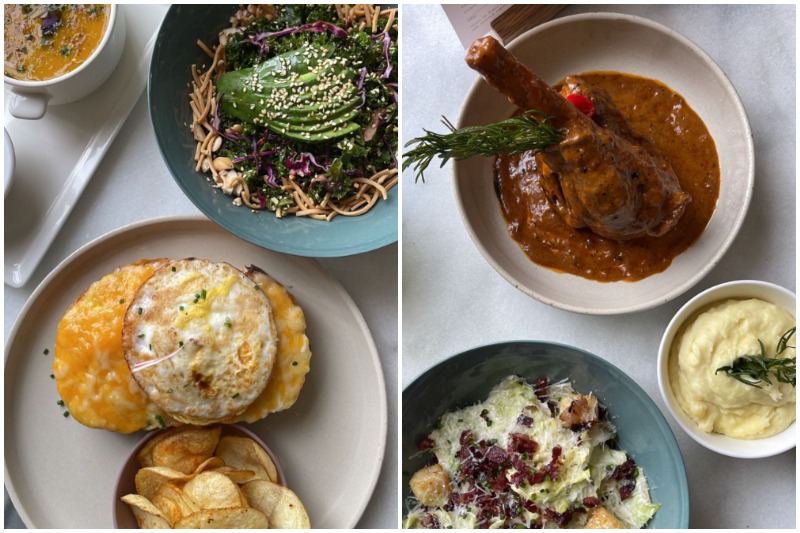 Pattis at The Zone offers three types of two-course set menus for their business lunch, although all come with a choice of soup or salad for your starters. For SAR65, you'll get either a chicken sandwich or a Croque Madame for your mains and a selection of a burger or grilled chicken breast for SAR75. But if you prefer grilled chicken with mushroom sauce or lamb shank with mashed potatoes, the price will set you back at SAR105.
Pattis, The Zone, Business Lunch Available from Sun to Thurs 11am to 6pm. Tel: 011 277 2700. @pattis
ROKA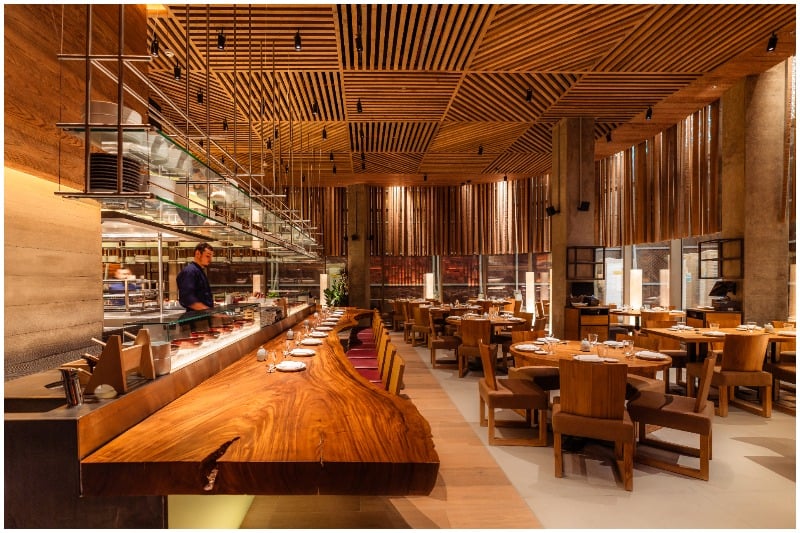 ROKA Riyadh is the perfect spot for you to enjoy contemporary Japanese robatayaki cuisine. The good news is they have just launched their new set lunch menu, and diners can choose from either the 'Classic Lunch Menu' (SAR 145) or the 'Premium Lunch Menu' (SAR 185). Each comes with a selection of crowd-favourite starters to share and a choice of delectable main – from the signature black cod marinated in yuzu miso with pickled radish to the beef fillet with chilli, ginger and spring onion, and the Cedar roast baby chicken with chilli and lemon.
ROKA Riyadh, 5140 Prince Muhammad Bin Abdulaziz Rd, As Sulimaniyah, Riyadh 12243 7053. The set lunch menu is available from Sun to Thurs 1pm to 4.30pm. @rokariyadhofficial
Sumosan
View this post on Instagram
The doorway to an eclectic haven of contemporary Japanese, Sumosan has launched its business lunch, available only from Monday to Thursday, offering a refined hangout for diners. You can't go wrong with its set menu featuring miso soup and salad for starters, maki roll, and main courses like black cod gyoza, grilled beef skewers or grilled chicken thighs.
Sumosan, Laysen Valley, Umm Al Hamam Al Gharbi, Building 25, Riyadh 12329, Mon to Sat 1pm to 4.30pm & 7pm to 1am. Business Lunch Set Menu, SAR180 per person. Tel: 9200 21225. @sumosan.riyadh
Yauatcha
View this post on Instagram
Treat your client to classic Chinese dishes at this dim sum restaurant helmed by executive chefs Tan Boon Wee and Chong Sin Chong. Yauatcha presents the Lily business lunch set for SAR120. Dishes include three dim sums, a choice of wok-tossed tiger prawns or sweet and sour chicken, bok choy vegetables, steamed jasmine rice and two pieces of macarons. Read our business lunch review here.
Yauatcha Riyadh, Mode Al Faisaliah, Prince Sultan Bin Abdulaziz Rd, Al Olaya, Riyadh 11433. The Lily business set lunch menu is priced at SAR120 per person and is available every Sunday to Thursday, from noon to 4pm. Tel: 9200 06555. @yauatchariyadh
Images: Instagram
> Sign up for FREE to get exclusive updates that you are interested in